12 Ways Instructional Leaders Can Provide Support
---
Join Our Community
Access this resource now. Get up to three resources every month for free.
Choose from thousands of articles, lessons, guides, videos, and printables.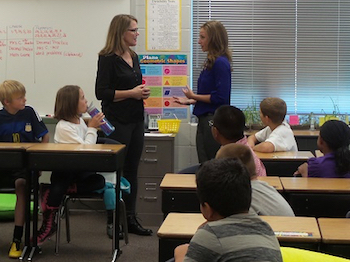 Are you a teacher leader, coach, or administrator looking to introduce or support Daily 5 and CAFE teaching practices to and with your staff? We have some helpful, tried-and-true suggestions.
1. Hold a book study with those interested. Our website has a study for Daily 5 and CAFE.
2. Have your staff sign up to receive the free Tip of the Week. Subscribers receive the tip in their inbox each Friday. In many schools, at each staff meeting, a grade-level team will take a few minutes to highlight their favorite articles from the tips received that month. 
3. Introduce the Essential Elements as a self-reflection tool. These serve as a needs assessment and guide learning and goal setting as teachers continue to implement and refine these practices.
4. Hold the expectation that teachers will assess, teach, and monitor progress using a conferring notebook or the CCPensieve (online conferring notebook). If using the CCPensieve, have teachers share their students so you can view student progress at any time. You'll get a glimpse into the instruction taking place and can easily provide support that is aligned with student goals. Some school leaders set their CCPensieve accounts up to provide individualized support to teachers and instructional assistants.
5. Support teachers as they increase resources in their classroom—books, book boxes, chart paper, and flexible seating options. Help organize a school book drive by sending a note home informing families that your classrooms would love to be new homes for gently used books. This can dramatically increase classroom library collections. 
6. Provide time for teachers to observe each other and collaborate. If they don't have time to observe, make it a priority by hiring a floating guest teacher. Teachers coordinate which classrooms they would like to visit and when, and then sign up for the guest teacher to visit their room during that time. 
7. Encourage teachers to videotape their lessons—not to show others, but to replay and reflect on their instruction and student behaviors. They can then use this reflection, along with the Essential Elements, to set goals and monitor progress.
8. Some schools post class stamina outside each classroom so children can celebrate the success of their peers. 
9. Share class data with your staff. You might start small by highlighting a few teachers who have shown great success with Daily 5—highlighting where their students were at the beginning of the year and where they are now. The data speaks for itself. 
10. Continue to support teachers by sending a few to a live workshop so they can hear the latest refinements and return to share learning with colleagues. 
11. Provide a membership to the website for staff members who express interest and will use it (some PTOs/PTSAs are willing to fund this). The website is a huge resource for teachers and is updated with new content weekly.
12. Inform staff of the online seminar and online graduate course for Daily 5, CAFE, and Math Daily 3. Teachers who need credit for licensure might find our course options helpful. View the comparison chart for various PD options.