Declaring Goals, Establishing Strategies
---
Join Our Community
Access this resource now. Get up to three resources every month for free.
Choose from thousands of articles, lessons, guides, videos, and printables.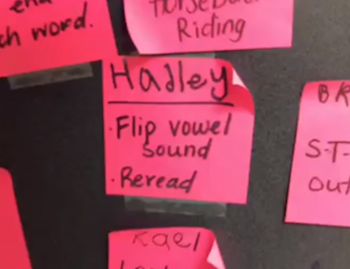 Part of our assessment to instruction includes helping students set a reading goal and decide on a strategy to help them meet that goal. Once the goal is determined, students declare it by writing their name on a sticky note and posting it under the correlating heading on the Literacy CAFE Menu. The sticky note stays there as long as the child is working on that goal, which might be months or the entire year.
Kelsie Wennekamp has made a slight adjustment to this process. She has her second-grade students write their name and the strategy they are working on before posting it under the overarching goal. When a child demonstrates understanding and applies the strategy to text appropriately, a new strategy is layered on. At this point, the student writes their name on a new sticky note, with the new strategy, and replaces the old one. Kelsie finds this brings her students back to the menu and has them revisit their accountability.
Listen in as Hadley shares her strategy.