What Is Your "Must-Have" List for Strategy Instruction and Reading Aloud?
---
Join Our Community
Access this resource now. Get up to three resources every month for free.
Choose from thousands of articles, lessons, guides, videos, and printables.
If you ask us what books you should teach with, we will undoubtedly answer, "Teach with books you love and books you know your students will love." There isn't a curriculum or list in the world that can match the power and potential of a personal list like that.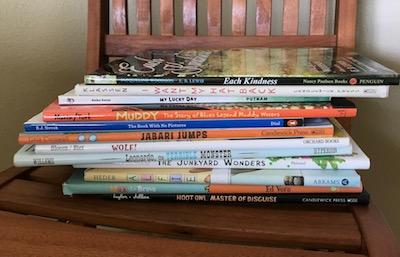 I am a fairly voracious reader of children's literature. Whenever I find a new book that I love, I read it with a CAFE Menu close by and try to be aware of where I authentically use strategies, or where I think my students may need to use strategies to comprehend, read accurately and fluently, and expand their vocabularies. By posting these possibilities in the inside cover, I will be ever ready to share a book that has captured my heart or will capture the students in front of me, modeling with a whole group, small group, or one-on-one.
If you don't already have a collection you love, we have a few lists that will help you get started.
Book Looks: This lengthy, alphabetical list of picture books is organized by title. Click on a title, and you'll find a brief synopsis of the book and strategies that would be easy to teach with it. It's a great resource if you are wondering how you might use some of the titles already in your collection.
Lit Lessons: The picture books (plus a few chapter books) listed here are alphabetized also, and include a brief book blurb, possible strategy instruction ideas, and a downloadable lesson with more in-depth suggestions for teachers who want even more support.
Brief Focus Lessons: This list is alphabetized by strategy instead of title and includes detailed lesson plans (some of which are grade-level specific) for delivering brain-compatible, focused instruction. You'll have to click on a strategy to see if it's a book you currently have or a title you'd like to add to your repertoire.
Page Turners: Here you'll find titles for all ages around certain themes. Be reminded of old favorites and discover new loves, then read them through a CAFE lens to determine their lesson potential.
Please don't view these as books you must purchase. Try borrowing them from the library, and you'll soon discover which ones are your "must-haves." Then when a friend or colleague asks what books you can't live without, you'll be ready with an answer.