Using The 10 Steps in Distance Learning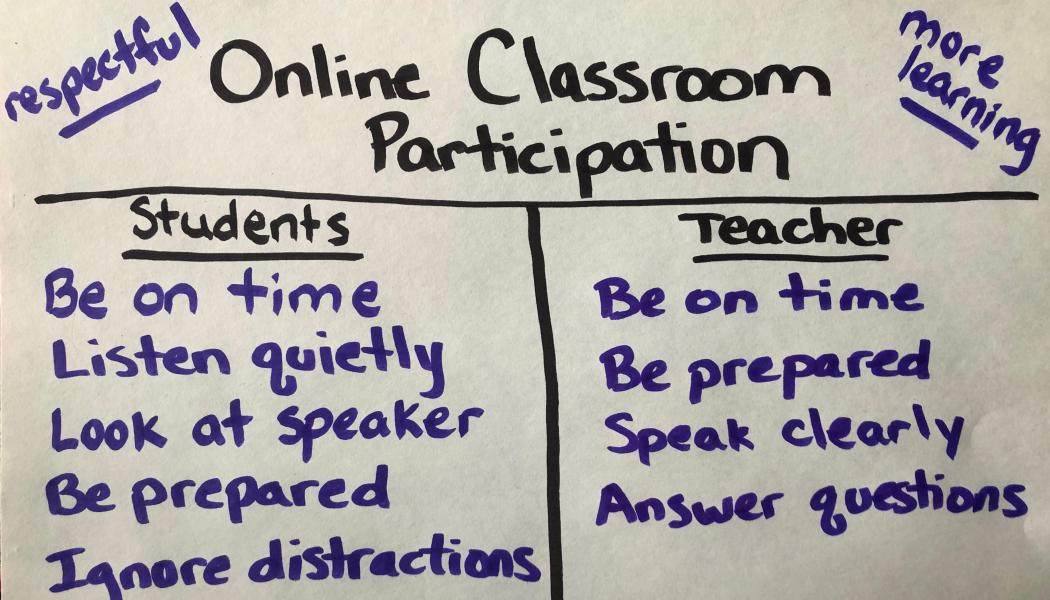 ---
Join Our Community
Access this resource now. Get up to three resources every month for free.
Choose from thousands of articles, lessons, guides, videos, and printables.
We use The 10 Steps to Teaching and Learning Independence to teach students to be independent in just about anything. From the Daily 5 tasks, to math/ science behaviors, to classroom and school behaviors, these 10 Steps help us clearly communicate expectations through explicit explanation, modeling, and student practice. 
Now we are facing unprecedented times and our teaching, and student learning, looks different than ever before. The 10 Steps will be beneficial when students return to school and are working to remember and apply school behaviors, yes, and they can help us now. Many teachers are currently faced with moving their instruction to an online format using a platform that allows the class to come together virtually, both teacher and students sharing their live video. This is a great way to connect and collaborate, and is quite a different setting that can be difficult to navigate without clear expectations. This is where the 10 Steps can help. 
Regardless of what platform you use to hold live class sessions, it can help to go through the 10 Steps and communicate your expectations. What does an i-chart for distance learning look like? It will look different based on your platform, students, and the expectations you would like to set. We suggest some below, with the understanding that you can take what you need, leave what you don't, and add what you feel is missing! 
Step 1: Identify what is to be taught – Today we are going to talk learn how to participate in our online classroom. 
Step 2: Set a purpose – We do this because we want to be respectful of others and so we can get more learning in.
Step 3: Record desired behaviors – On the student side of the chart, write the behaviors you have chosen to communicate to your class. Some options for student behaviors include: 
Get started right away/ be on time
Look at the speaker
Speak clearly when talking
Listen quietly
Ignore distractions
Persevere
Be prepared
Follow along
Mute unless you are speaking
Raise your hand to talk
Work the whole time
Smile
Some options for teacher behaviors include:
Be on time
Speak clearly
Be prepared
Ignore distractions
Smile
Step 4: Model most desirable behaviors – Choose a student to model the student behaviors and as they are modeling, go through the behaviors asking, "Is Alec listening quietly? Is Alec prepared? etc." After going through all of the behaviors, ask students, "If Alec participates in our online classroom like this, is he being respectful of others and will he get more learning in?" (Yes.)
Step 5: Model least-desirable behaviors, then desirable (same student) – Ask a student to model incorrectly and go through the behaviors as you did in step four and once through the behaviors ask the question, "If Sarah participates in our online classroom like this, is she being respectful of others and will she learn more?" (No.) Then, ask the same student to model the correct behaviors and follow up with the question, "If Sarah does participate in our online classroom like this is she being respectful of others and will she learn more?" (Yes.)
Steps 6-10 provide time for students to build stamina, and self-reflect on that time while the teacher graphs stamina and discusses next steps. In distance learning you may choose to teach a lesson and graph stamina as a whole class, or revisit the behaviors at the end of the session and have students self-reflect. How you move forward depends on your students, the time you have, and the platform you are using.
We would love to hear how the 10 Steps are working for you and your students in distance learning. What behaviors have you found beneficial to include? Share with us on our discussion board.