One Way to Organize Ready Reference Guides
---
Join Our Community
Access this resource now. Get up to three resources every month for free.
Choose from thousands of articles, lessons, guides, videos, and printables.
Have you ever planned "the perfect lesson" only to find that halfway through the lesson your students have checked out? I think this has happened to all of us at some point in our teaching career. We plan, prepare, and deliver what should be an amazing lesson and are disheartened when we realize it didn't go as planned. Why is this? Often the reason points back to what research tells us about the brain and how the brain learns.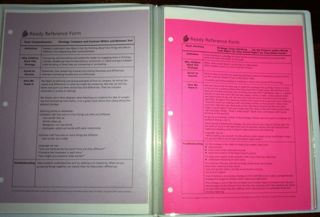 Brain research highlights the importance of brief, explicit focus lessons for increased retention of new information. However, teachers often struggle to keep instructional time brief. There is too much to cover and so many "extras" to enhance a lesson that it makes the task of a brief lesson nearly impossible. Ready Reference Guides are one tool I use to keep focus of the instructional goal in a lesson.
Ready Reference Guides, found in the back of the CAFE book (Boushey & Moser, 2009) or on the interactive CAFE menu on www.thedailycafe.com, serve as just that a guide that is ready to assist teachers in teaching a literacy strategy. These guides provide the definition of the strategy, secrets to success, tips for instruction, and ideas for troubleshooting. Everything needed to introduce, review, and practice a strategy is provided, thus reducing planning and instructional time.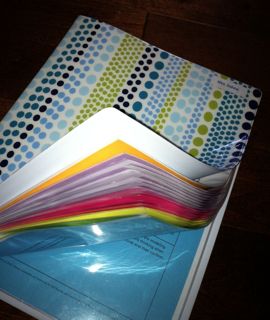 Rather than carry my CAFE book everywhere I go during the reading block, I have found another way to have these reference guides handy. I copied each guide and placed them in a presentation notebook. I chose four different colors of paper (one for each of the four goals) to make it a quick and easy reference when looking for a strategy. Now, when I am planning whole group or small group instruction, I use my ready reference guides to stay focused and keep my lessons brief. It is amazing how much this has helped!
Although a binder with page protectors would work, I found the cost of the presentation notebook to be very reasonable and it is a one-time splurge that lasts year after year. I purchased mine at a local Barnes and Noble and was able to choose from various colors, designs, and styles ranging from $13.95 -- $40.00.  I love the flexibility of the notebook (soft and lightweight) along with the handiness of having these helpful forms at my fingertips. Using my ready reference guides, I have cut lengthy focus lessons in half and have turned them into what they are truly called a FOCUS lesson.