Join Our Community
Access this resource now. Get up to three resources every month for free.
Choose from thousands of articles, lessons, guides, videos, and printables.
Let's face it: for many of us, myself included, Math Writing is a double-edged sword. It provides students a chance to dig deep into the content and make sense of the concept or skill being taught, but at the same time it can be a daunting task to manage your students' work in this area.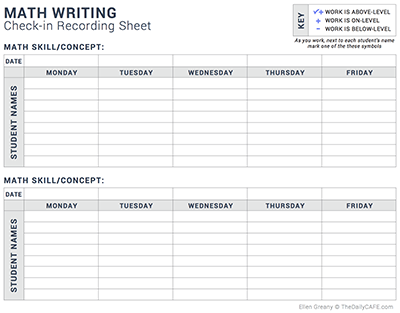 As an instructor for the Math Daily 3 graduate course, I find that the question of how to manage the Math Writing component resurfaces time and time again when students post their questions to the discussion board. As with many parts of the Daily 3 structure, there is not necessarily one right way of doing things, as long as you remain true to the structure's foundational elements. With that being said, here are three suggestions of how you might stay on top of the work your students are doing during Math Writing:
Have students bring their math writing notebook to each conferring session. You can quickly glance through their notebook to see what they've been working on. Additionally, you can make a note to yourself to plan a specific conferring session to select a piece from the student's math writing notebook and have them explain their thinking and the work they did to you.
You could divide your class so that each day of the week you are responsible for checking in on only four or five students. Then, say, on Monday, select the math writing notebooks of students you selected to check in with, and glance through their work. You can leave feedback if you so choose, or keep a recording sheet where you track student progress. Using this method regularly will provide you with ample amounts of informal assessment data that can help you determine the content and structure of your conferring sessions.
Each week find time in your day to host a "Spotlight on Math Writing" segment. You can have students volunteer or assign each one a specific date to participate. During this time, have students select a piece from their math writing notebook to share with the class. Students can present and explain their work to peers, and their peers can respond with any questions they might have. This format is a terrific way to incorporate Common Core Mathematical Practice 3: Construct viable arguments and critique the reasoning of others, and Mathematical Practice 6: Attend to precision.