Math Daily 3—Structuring Your Schedule
---
Join Our Community
Access this resource now. Get up to three resources every month for free.
Choose from thousands of articles, lessons, guides, videos, and printables.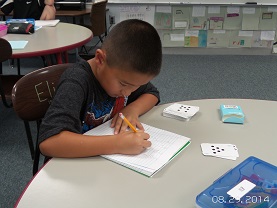 Organizing your schedule to fit the demands of the curriculum within the constraints of your time block can be challenging. One of the benefits of Math Daily 3 is the flexibility it provides when it comes to scheduling. Similar to Daily 5, Math Daily 3 can be done in one block of time, or it can be separated into two or three blocks of time.  
When adapting your schedule to include Math Daily 3, here are a few considerations:
Brain research on the ability to attend to direct instruction highlights the rule of age in years=minutes. Focus lessons need to be intentional and brief. 
If your math block is too short for three rounds, you may be able to borrow time outside of the math block for a third round, or simply have a math structure that contains two rounds per day.
The length of each round is determined by the amount of time you have to work with and the class's stamina. If your schedule allows for 15-minute rounds, work hard to build stamina to 15 minutes. 
Collaboration and sharing are essential components in learning. Make it a priority to save a few minutes for focused sharing at the end of the math block. 
Below you will see samples of the Math Daily 3 structure in 60-, 75-, and 90-minute math blocks.