Math Daily 3 Boards Evolve
---
Join Our Community
Access this resource now. Get up to three resources every month for free.
Choose from thousands of articles, lessons, guides, videos, and printables.
An integral piece of Math Daily 3 is the math board. When launching Math Daily 3, we begin by reviewing a few math games students are already familiar with, placing them on the board under the correct heading.
As new concepts are introduced, activities that support them are added. You'll see in the photos below how the board in one third-grade classroom grew in three months.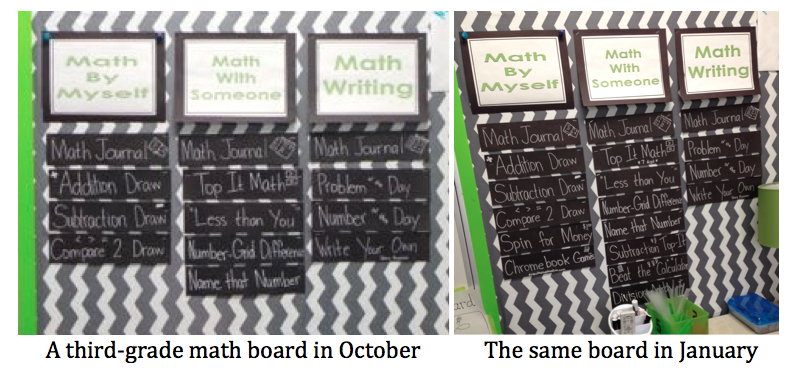 Four things help us maintain math boards that are relevant, purposeful, and guaranteed to best support student growth. 
1) Discover which games and activities are really being played.  This can be done once a month by a simple show of hands or by adding the information to the check-in sheet for a week. By recording the initials of the games students choose, we get a clearer picture of which games are still being played and which ones are ready to be retired or might need a sales pitch. 
2) Are the games that students select meeting their needs? If we keep track of the games/activities students choose for a week, we can easily see if they are selecting ones that support their learning goals. We also discover through one-on-one conferences which games students are selecting and have an opportunity to direct them to activities that will provide them with the most powerful practice opportunities. 
3) Retire grown-out-of games. Games that are either not being used or are no longer supporting student learning can be removed from the math board. Hold on to these labels in case you need them for new students or an end-of-the-year review.  
4) Add new games with each new concept. Our math board should always reflect what we are currently learning. If our math resource does not include an engaging game or activity that students can do independently, we look on our website, here. We are also fans of typing the concept we are teaching into Google to find games. And we love collecting books that contain dice and card games.  
By continually morphing to match concepts being taught, and by providing engaging activities for practicing, the Math Daily 3 board helps students become fluent, proficient people who truly enjoy math.