Launching Daily 5 in Kindergarten, Part 6
---
Join Our Community
Access this resource now. Get up to three resources every month for free.
Choose from thousands of articles, lessons, guides, videos, and printables.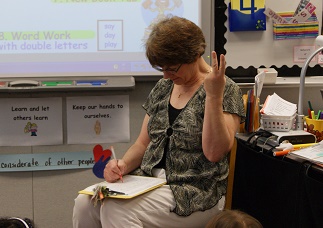 Once Read to Self and Work on Writing are introduced in kindergarten and desired stamina is achieved, it is time to introduce choice. We want choice to become part of the literacy block as soon as possible, so we no longer wait until all the Daily 5 components have been introduced. Choice is one of the reasons children are motivated and stay engaged when working independently.
It is exciting that we can trust even kindergartners with the responsibility of choice. We want our excitement and enthusiasm to be contagious, so we introduce it like the big deal it is. I generally start by saying,
"Boys and girls, I have some really exciting news! Do you want to hear what it is? Okay, get ready...You have been working hard to build your stamina and have done a great job working independently, so today you are going to get to choose if you want to do Read to Self or Work on Writing first! Isn't that exciting? I want you to close your eyes and picture yourself working independently.  Do you picture yourself doing Read to Self or Work on Writing? Today when I call your name, you are going to tell me which one you choose. Remember, whatever you choose, you are going to follow the behaviors on the I-chart. You will get started on your choice right away, and you will work the whole time."
Grab your check-in sheet and begin by reminding students, "When I call your name, you are going to say 'Read to Self' or 'Work on Writing.' We want to do this quickly so we can get started right away, so be ready when I call your name."
I start by calling a child's name and go down the list. I don't always start with the first name, but I do go in order wherever I start on the list. Children quickly learn who is before them, which definitely speeds up the process.  If I call on a someone and he or she is unsure of what to choose, I typically tell the child I will come back to him or her. If they are still unable to decide, I will make the choice. This seldom happens, but if it does, it is necessary for the child to understand, through our gentle response, that we do not waste precious learning time.
The first round of Daily 5 is followed by a brief focus lesson, which is followed by another opportunity to check in. It is understood that after making their first choice, their second choice, by default, will be the other Daily 5. This time I tell students,
"You did a very nice job of choosing quickly last time. Didn't it feel good to make the choice all by yourself? This time when you check in, you are going to choose the Daily 5 you haven't done yet. So, if you Read to Self last time, you are going to say 'Work on Writing' when I call your name this time, and if you chose Work on Writing last time, you are going to say 'Read to Self' this time. Are you ready?"
In the days after the introduction of choice, I continue to provide children with a few seconds to think about their choice before I start check-in. I also reinforce that they need to be ready so we can be sure to make the most of our time.
NEXT—Part 7: Word Work