Launching Daily 5 in Kindergarten, Part 7
---
Join Our Community
Access this resource now. Get up to three resources every month for free.
Choose from thousands of articles, lessons, guides, videos, and printables.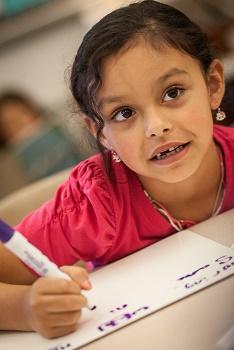 Introducing Word Work in kindergarten is fun because the children are truly excited about manipulating letters to make words. Word Work is introduced much like the other Daily 5 components with the exception of stamina building.  Because Read to Self and Work on Writing stamina is already established, and because we do not typically have enough materials for the entire class to practice at the same time, we do not build stamina as a group.  Instead, we follow Steps 1–5 of the 10 Steps to Independence, and we offer it as a choice for a limited number of students. 
The introduction of Word Work in kindergarten resembles this:
Step 1: Identify what is to be taught—In a whole-group setting, the teacher tells the class, "You have worked so hard at being independent and building your stamina in Read to Self and Work on Writing that today we are going to learn our third Daily 5!"  The teacher writes a big I on chart paper and then writes "Word Work" at the top. The teacher reminds the children that the I stands for Independence and reminds them what it means. Then the teacher says, "Boys and girls, today we are going to learn how to do Word Work independently."
Step 2: Set a purpose and create a sense of urgency—To keep this lesson brief and focused, we provide the purpose, saying, "We learn Word Work because it helps us to become better readers and writers, and because it is fun!" The teacher writes these ideas at the top of the I-chart.
Step 3: Record desired behaviors on the I-chart—The t,eacher records the desirable behaviors on the I-chart and briefly explains each one. With younger students, we list and explain only the first two behaviors in the first lesson.
"Just like with Read to Self and Work on Writing, if you are doing Word Work you will work with words the whole time." The teacher writes, "Work the whole time" on the I-chart. "This means that you will make words with your chosen tools the entire time. Another thing you will notice is everyone stays in one spot." The teacher writes, "Stay in one spot" on the I-chart. "This means that as soon as you sit in a successful spot, you will stay there the whole time."
Depending on the maturity and readiness of the group, begin the correct modeling now or add additional desired behaviors.
Get started right away
Work quietly
Get materials out nicely
Put materials away neatly
"When you are working with words, you will use what you know about letters and sounds to build words. They might come from words we are learning together, from words I give you, or words that you want to learn. And what am I doing while you are working? I will be working with students." Write "Working with students" on the I-chart. 
Step 4: Model most-desirable behaviors—Before choosing a student, the teacher will introduce one activity that will be used during Word Work and discuss the expectations. I usually start with dry erase boards because children are familiar with them. Choose a student to model the behaviors listed on the I-chart. As the student models, read the behaviors on the student side of the I-chart and ask the class if the student is modeling each behavior correctly. Then ask the essential question, "Boys and girls, if ____ continues to do these things, will he/she become a better writer?" ("Yes!")
Step 5: Model least-desirable behaviors—If you do not feel your kindergarten class is ready for this step, you may wish to skip it so it does not confuse them about expectations. However, since this is launched after Read to Self and Work on Writing, the children are most likely ready. This step is a powerful way to communicate Word Work expectations to students. Be sure after a student models it the wrong way to have the same student turn his behavior around and model it the right way.
After the modeling has taken place, I tell students that today during each round of Daily 5, six children can choose Word Work. If they don't get a chance the first round, they might get a chance the second round.  If they don't get a chance then, they will the next round.  No one will get to do it twice until everyone has had a turn. I continue to do this for a few days, introducing one new activity each day, until there are between four and six activities for the children to choose from.
A few things to remember with Word Work
Word Work is about the manipulation of words, not about the tools the children are using. There is no need to change the tools frequently. The tools stay the same throughout the year, but the words children work on will change. 
Word Work is not a form of centers. If students choose Word Work, they go to the tool area and grab the tool they choose to use. Then, they find a successful spot and begin working. The tool they choose stays with them the entire time. They do not get to trade it in for other tools. 
Material Ideas for Word Work
Dry erase boards, magnetic letters, colored markers/pens, pipe cleaners, Magna Doodles, sand letters, buttons or shells, play dough, etc.