How do I fit it all into a half-day kindergarten?
---
Join Our Community
Access this resource now. Get up to three resources every month for free.
Choose from thousands of articles, lessons, guides, videos, and printables.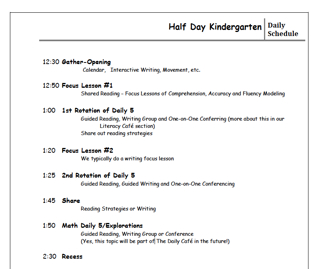 If you teach kindergarten in a half-day program, you know the time zooms by with blinding speed. 
Many schools now offer full-day kindergarten, yet some have  half-day kindergarten as the compulsory program. It is important to remember that if you have a half-day compulsory program, something has to give; you just can't do it all.
Our youngest learners come to us with vastly different needs and at all levels of school readiness, yet we are required to get each one to standard in the brief time they are in our care. The good news is that Daily 5 and CAFE can help us do it.  
If you are using Daily Five to teach your youngest learners to build stamina and become more independent, we have a few adaptations to fit your shorter day.  
Reduce the Daily 5 to just two choices: Read to Self and Work on Writing. Students can do Word Work for just a short time, as measured by a timer, and then the rest of the time they do Work on Writing.
Have one focus lesson be a writing lesson, and incorporate writing workshop into the Daily 5 block. 
Do two rounds that include Read to Self and Word Work, and have a separate writing workshop.
Integrate your CAFE instruction into your read-alouds.  We always begin our first day of school by modeling and teaching Check for Understanding.
Here is what our half-day kindergarten schedule looks like once Daily 5 is up and running.