Figuring Out Which CAFE Strategy to Teach
---
Join Our Community
Access this resource now. Get up to three resources every month for free.
Choose from thousands of articles, lessons, guides, videos, and printables.
A Daily CAFE member posted the following on our Daily CAFE Discussion Board:
This is all overwhelming . . . What I really would like is an iPad app that lets me point to the problem I see in the assessment, gives me possible strategies, and then gives me the info on how to teach them.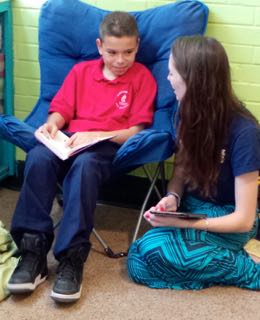 For those of you who are feeling like this colleague and wish the fairy godmother of teachers would tell you which strategy to start with, here are a few helpful suggestions:
Take a breath. Even with years of experience, we know there isn't a foolproof way of matching students to the perfect strategy. Since we know they will need a multitude of strategies to be successful, we relax a little and take our best guess, monitoring often to see if it is working. If we don't see independent use and growth after three or four one-on-one conferences, we try a different strategy.
Susan Rea posted a helpful suggestion on our Discussion Board.
I use the Assessing Student Learning rubrics to help me choose between related strategies. I printed them all out and have them in my notebook. Reading those helps me become more discerning as I confer with students.
Consider using the Ready Reference Guides. When a student is reading and you notice miscues, these guides may help you know where to begin. By quickly reading the top three sections of each guide (Definition, Why Children Need This Strategy, and Secret to Success), you can determine if the strategy will meet the need of the student you are working with. 
Printing the Ready Reference Guides and organizing them in a notebook is a great support as well. Put the Assessing Each Strategy and Ready Reference Guides in your conferring notebook. You'll find that if you routinely review the Ready Reference Guides and frequently confer with students, it becomes much easier to align a strategy with observed needs. For those who prefer computerized documentation, the Ready Reference Guides are all available electronically. 
Read the article Determining Which Strategy to Assign. You'll find a helpful chart that shows sample needs and strategies as well as our 6-5-4-3 chart which is what we look at when we aren't sure where to begin. 
Remember, good teaching takes time, and nothing takes the place of a caring teacher being present with a student as they read. Combining our knowledge of the strategies, personally knowing the child, and our passion for helping that student grow adds up to be one of the best recipes for student success.