Coaching or Time, with a Twist
---
Join Our Community
Access this resource now. Get up to three resources every month for free.
Choose from thousands of articles, lessons, guides, videos, and printables.
By Leann Norton
Knowing and practicing accuracy strategies is a large component of literacy instruction for primary students. As a first-grade teacher, I frequently taught accuracy strategies from the CAFE Menu Board, but I noticed that some students still struggled to diversify their strategies. Many students had their favorites, but their go-to strategies were sometimes unhelpful. To help my class out, I designed a quick and easy mini-lesson that I used once or twice a week. Coach or Time is derived from the Daily 5 foundation lessons for Read to Someone, and here's how it works:
Coach or Time: The Accuracy Strategy Mini-Lesson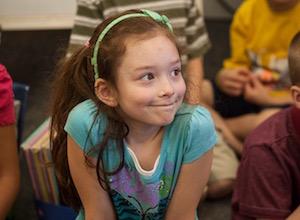 (1) Pick a text—You may want to use your comprehension mini-lesson text or your ongoing read-aloud text.
(2) Strategically pick your words—For this mini-lesson, try picking two words per page with which to model accuracy strategies. Picking too many words per page suggests that you are reading a bad-fit book, but just two words gives you an opportunity to model what reading a good-fit book looks like. When you pick your words, think about what strategies you want to highlight. For example, do you want to focus on Flip the Sound? If so, make sure the words that you choose have atypical vowel sounds or patterns. This is your time to plan the purpose of your Coach or Time mini-lesson.
(3) Read so that everyone can see—If possible, use a document camera to project the text so that everyone can see it. However, Big Books work great, too.
(4) Coach or Time—As you come across your preselected word, show signs of struggle, such as pausing, stumbling, or mispronouncing. Students will silently count for three seconds in their head and then say, "Coach or Time." The first time you teach this lesson, you will need to explicitly teach this routine. The kids pick it up fast, because they already use this language and routine in Read to Someone. After they say, "Coach or Time," you get to pick.
(5) You picked coach—Have students turn and talk with each other, brainstorming accuracy strategies you could use. Then call on one student to share a strategy and give it a try. If it works, great! If not, keep asking for other strategies until you can decode the word. This demonstrates how students can be resilient and flexible in using accuracy strategies.
(6) You picked time—Awesome! You can model by thinking aloud as you try one or more strategies. This gives you a bit more control over which strategies the kids will see you use.
(7) Repeat—Yippee! You've got the lesson down!