Students Seem to Have Forgotten a Strategy. What to do?
---
Join Our Community
Access this resource now. Get up to three resources every month for free.
Choose from thousands of articles, lessons, guides, videos, and printables.
I sat down beside Anna, who was reading the new Pam Munoz Ryan book, Echo. Anna, a fourth-grade student and very strong reader, has been working to increase comprehension and expand her vocabulary. Our plan was to continue working on the strategy of inferring. She had been building on her natural ability to use background knowledge to infer by supporting her inferences with evidence from the text.  
After we reviewed her goal and checked on the inferences she had marked in the previous two days, I asked her to read a bit more. She came to the end of Part 3 and turned the page to begin Part 4. After she began to read, she stopped and frowned. I asked, "Anna, what is going through your mind?"
"I don't understand what is happening," she replied.
"What could you do to help yourself figure it out?" I asked.
Looking at me she shrugged and said, "Back up and reread?" She tried that strategy and was still stumped. When I asked her if she could identify where she had gotten confused, she pointed to the very beginning of the page and said, "Right here. I don't know who these characters are." I asked her if she remembered the strategy we had worked on about a month earlier: Ask questions throughout the reading process. She looked at me with a blank face and shook her head. It was one of those moments when I realized either my teaching hadn't been effective for her, she hadn't been ready for the strategy when I'd taught it, or she hadn't practiced enough to make it part of her repertoire.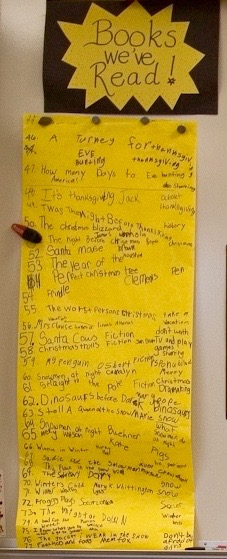 I taught it again, this time modeling for her how readers need to listen to the questions in their minds when they don't understand. I asked Anna if she could turn her confusion into a question and she said, "Who are these characters?" I then asked her how she might figure out the answer. Her face lit up and she said she needed to look back in the book to find the characters and see if that would help her remember. 
After finishing up a few more conferences that day, I was curious and started to ask other students if they remembered or used the strategy that Anna had forgotten. A number of children looked at me with the same blank stare. It was clear that this strategy needed to be retaught. I decided that rather than start the lesson anew, I would go back and anchor the lesson to the books I had used to initially teach the strategy and build from there.
The next day, I went back to our list of Books We've Read and asked the class if they remembered when we read Winter Waits and I Wonder Why? I pulled the books back out and asked the class if they could remember the strategy we had worked on with these books. There were replies of, "Ohhhhhh, I remember!" as well as "Nope!" Then, we did a similar version of the original lesson, modeling how to Ask questions throughout the reading process. I modeled, students modeled, and elbow buddies worked together.
At the end of the review, I wrote the title of each book on a sticky note and attached it to the strategy posted on the CAFE Menu, creating a visual anchor to remind them when the strategy was first introduced. We continued to work with the strategy in our read-aloud for the next week or so.
By going back to the Books We've Read list and even pulling out the original books, students were able to move forward with the strategy after a quick review. Adding the titles of the books to the strategy card created a visual reminder that carried over to their individual reading.