Classroom Library Makeover
---
Join Our Community
Access this resource now. Get up to three resources every month for free.
Choose from thousands of articles, lessons, guides, videos, and printables.
When we set up our classrooms each fall, one of the spaces which require thoughtful consideration is the classroom library. The way we plan for its use can mean the difference between a space where children independently find, read, and return good fit books, or a space that becomes an eyesore which requires constant teacher management. The classroom library can function as the heart of the room or its Achille's heel.
For years I grappled with the "perfect" way to organize my classroom library. Once I found a location that I loved, I strove to find the most efficient way to organize and display the books. Each fall began with what appeared to be a beautiful, organized classroom library. However, students often couldn't find the books they were looking for and they returned books in such a haphazard way that the library quickly became a disorganized disaster. Soon I fell back into the pattern of being overwhelmed with the management of the classroom library. Summer would roll around again and I'd be back in my classroom, sweaty, dusty and back to the drawing board looking for a better way. Should it be organized by author, genre, or by topic? Maybe the kids should organize it so they would be more invested in the care and management.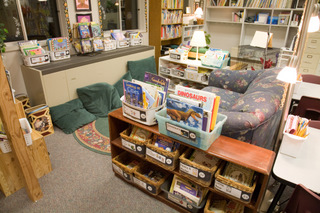 A few years back, I sat amongst my piles of books and decided that leveling the library would be the final answer to my organizational woes. Each book was carefully leveled and placed in a tub. I eagerly anticipated the ease with which my students would find a good fit book and how simple it would be for students to return them. However, it wasn't long before my hopes were shattered. Students couldn't find topics they were interested in and still failed to replace them in the correct tubs.
The final impetus for change came when Pedro joined my class. Pedro was a struggling reader who had few, if any, books at home. His supportive mom really listened when I explained how critical it was that he be reading at home, and she was willing to take him to our beautiful local public library. I couldn't wait to see what he checked out and was shocked when he returned empty handed. He informed me that there were tons of books there, but he couldn't find a book because there was no blue tub. Pedro's only experience with libraries had been in classrooms where they were leveled. Talk about an "ah-ha" moment! In my effort to simplify my library so students could readily find books at their level, I had neglected to empower and teach them how to pick a book that was a good fit for them.
At the end of that frustrating day with Pedro, I went to Lori Sabo, our librarian at the time, and shared my frustration. I knew my library had to change. She shared how her classroom library had worked beautifully and efficiently and volunteered to help.
We began by going through every book asking the question, "Is this book worthy of being in the room?" Books that were out of date, unappealing, or had severe wear went into a "donate" pile. Keeping books that students never chose was one reason it was hard for them to find books they were interested in. 
Through this whole process, I kept in mind that level wasn't as important as topic. If a student loved dinosaurs, dogs, sports, etc., they should be able to go directly to their topic of interest and browse within it to find a good-fit book. So, all the "keepers" were put into assorted piles according to subject, genre, and author. After every book had been assigned a pile, I called them out and Lori typed them into a document on the computer. "Farm, Frogs, Friends, Eric Carle, Kevin Henkes, Magic Tree House, Junie B. Jones, Mystery, etc." That document then became the table of contents for our newly organized library.
Upon completion of the document, we placed each pile of books into a tub or basket and added a temporary sticky note label. The tubs were put back into the library based on the frequency of use and popularity instead of alphabetical order. For example, non-fiction animal books are always a favorite in our room, so that tub was placed on the shelf that provided easy access. The same was true for Magic Tree House and Junie B. Jones books. Each tub was assigned a number, which was recorded on the document to the corresponding tub title. 
I made labels for each tub showing the tub title, a corresponding picture and its number. A small sticker with the tub number was placed on the back top middle of each book in the tub. By labeling each book with the tub number, even our youngest students, who couldn't remember where they found a book, could look at the back of their book and match the number to the right tub.
Our classroom library is cozy, organized, functional, and easily maintained by students. Now, after I teach my children the I Pick Good-Fit Books lesson, they eagerly head to a tub of interest and browse through the books to find one they can read and understand. 
Thanks to Pedro for making me remember that children are not labels. Thanks to Lori for helping me create a library that is organized, functional, and easily maintained.