CAFE Menu–Keep 4 Things in Mind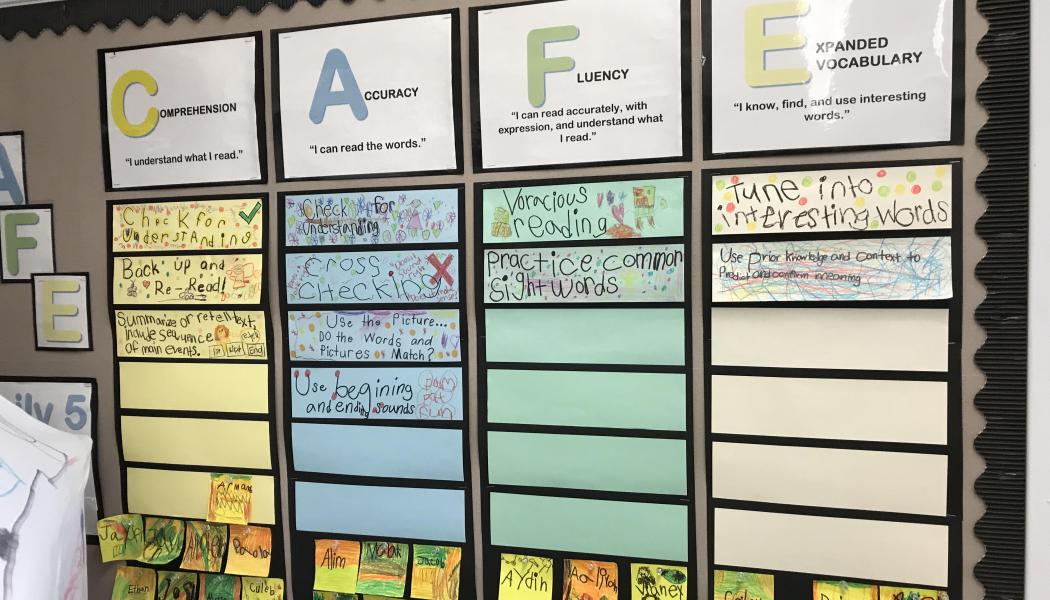 ---
Join Our Community
Access this resource now. Get up to three resources every month for free.
Choose from thousands of articles, lessons, guides, videos, and printables.
Here are 4 important things to remember when designing your CAFE Menu. You may want to pass them on to a friend or colleague who is new to the CAFE system.
1. Keep it simple! Resist the urge to make it cutesy. Think of your menu board simply as a place to put important information. You want the goals and strategies to be the stars of your menu, not the purple, polka-dotted, zebra-striped borders and headers with stick-figure children peeking over the top. You can make it look colorful, clean and neat using construction paper and a pleasant font. It's really all you need.
2. Keep it close! From your teaching chair, you should be able to touch the menu columns with your hand or a pointer. The menu won't be an effective tool if the children have to turn their bodies to see it across the room. If necessary, place your CAFE board on a display board so it can be set right beside your chair.
3. Children own it! Let them help you create the board. Students can do the writing (be sure the words are spelled correctly), illustrate the strategies, and declare their goals. This is important! Don't take shortcuts and have all the I-charts and strategies laminated before the children even arrive. Think about it this way, would you rather teach in a classroom that you designed or one prepared by someone else?
4. Use it! Every day we read books to the children; every day we can make a reference to the CAFE board. As you build your menu, strategy by strategy, it will represent countless hours of sharing and learning. It shouldn't become just a big poster hanging on the wall. What you and your students get out of it will be directly proportional to the amount of time and effort you put into it. 
I think you will find that the moments spent teaching from the CAFE menu will be the best of the day. Stay passionate, positive and persistent!