Join Our Community
Access this resource now. Get up to three resources every month for free.
Choose from thousands of articles, lessons, guides, videos, and printables.
When we send students off to read to themselves, we don't want to hear, "I don't know how to read."
As we researched beginning reading acquisition, we discovered children learn to read by reading the pictures, reading the words, and retelling a familiar story. With this in mind, we begin each school year by demonstrating 3 Ways to Read using a short picture book. 
"There are three ways to read and I am going to show you how to do all three. First I am going to read the pictures." Go through the book, and tell the story by reading the pictures on each page.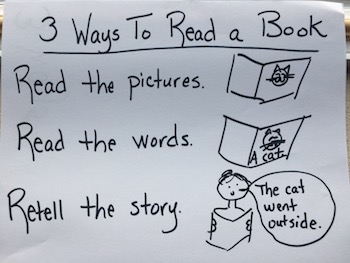 Write Read the Pictures on the 3 Ways to Read a Book chart. 
"I just showed you one way to read which is to read the pictures. Even if you don't know how to read a single word, you are a reader when you read the pictures. Now, I am going to show you another way to read. I am going to read the words."
Read the same book, but this time read the words. At the end of the story, remind the students that reading the words is another way to read, and add Read the Words to the chart.
After a brief activity or brain break, we present the third way to read, which is to retell a familiar story. Using the same book, we retell the story by using the pictures, including some of the words we previously read, then add Retell the Story to our chart. 
Armed with this awareness, students are able to engage in reading from day one. It is an important concept for our youngest students, and just as important for our older students who are inexperienced readers or learning English. In addition, reading the pictures is a critical strategy when reading nonfiction, graphic novels, directions, and some textbooks. So with our older students, we often model this lesson with a portion of one of these genres.