Join Our Community
Access this resource now. Get up to three resources every month for free.
Choose from thousands of articles, lessons, guides, videos, and printables.
One word wall just won't fit all students. Have you ever found that some children need to get up and walk around? They love to go and get the words they need to write in their journals. Other children want to "sit and get." They are happy to look across the room and find their words on the wall. You might want to try two different word walls in your room. Both walls get used in my classroom every day!
Sit and Get Word Wall
Here's a colorful word wall that screams I Love Words! First, laminate colored chart paper or construction paper and attach it to the wall with staples or double stick tape. I didn't have enough wall space, so I put my paper on a wall of cupboard doors. Next, I used black electrical tape to border each section.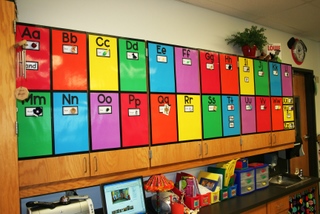 Caution —don't stretch the tape as you apply it or you'll find it on the floor the next morning like I did the first time I tried this. Once the paper is up and bordered you are ready for die cut black letters. Attach an upper and lower case letter in each section. I also wanted an anchor word for each letter so I printed the word on a label and added a matching miniature. Look for miniatures at party goods sites, craft stores or make your own from bakeable clay, beads and fun foam. Now you're ready for the wall words. Print your high frequency words and mount them on black paper. Add them to your wall. Watch how your students will use them to write, spell and read!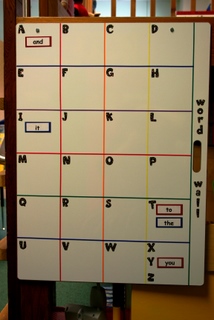 Take Away Word Wall
It's simple to make an interactive word wall. Divide a large magnetic whiteboard into squares using thin colored masking tape from your teacher supply store. Then add an alphabet sticker to each box. Now, it's time for the words. Check your local office supply store for magnetic sheets. You can either print right on the white, or if you like color, adhere printed labels to a colored magnetic sheet which has been cut into rectangles. It's a good idea to cut small pieces of clear packing tape to cover the labels to keep them clean from fingerprints and normal wear and tear. I made multiple copies of the same words and stacked them on top of each other on the word wall. That way, if several children need the same word, there are enough to go around.