Magnetic Paint and Whiteboard Paint
---
Join Our Community
Access this resource now. Get up to three resources every month for free.
Choose from thousands of articles, lessons, guides, videos, and printables.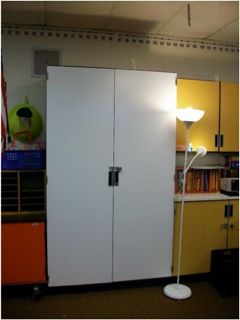 Regina Saul, a dual language teacher In Evanston, Illinois shared her summer projects which involved 2 kinds of paint, magnetic and whiteboard. Whiteboard paint turned this cupboard into a beautiful new whiteboard. Regina and her students use it for interactive writing, spelling sight words, forming letters, etc.
Regina really wanted an interactive word wall students could access, so she painted this board with magnetic paint. Now students are able to independently take words down, investigate each and every letter, then return them or take them over to the new whiteboard to practice spelling correctly. Thanks for sharing two very clever ideas Regina! If painting isn't allowed at your school, consider painting a smaller, portable surface and bring it into the classroom in the fall.