Join Our Community
Access this resource now. Get up to three resources every month for free.
Choose from thousands of articles, lessons, guides, videos, and printables.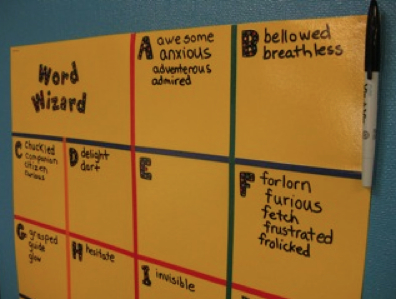 Word Collectors are great places to store interesting words you come across while reading stories to children.  I must admit, I run in spurts. Sometimes we add a word from each book we read. Then we go through dry spells where we're so busy, working on other strategies, that we actually forget to post any words for a week or two. I finally decided to take some time to think about what I could do to help remedy this lapse. Here are four ideas that have made a difference.
Attach a pen to your Word Collector using a piece of sticky Velcro. Anytime you want to write a word, there will be a pen handy.
Keep a small stack of sticky notes next to your reading chair. As you come across a suitable word, put a sticky note in the book before you turn the page. After you finish the book, it will be easy to locate the chosen word again.
Make it a habit to record the words immediately after you finish reading.
Turn the recording tasks over to your students.
Recently, I've been thinking how we could use our Word Collectors more effectively.  Since I'm always looking for ways to maximize teaching time, I decided to combine some of these words with handwriting practice. Together, we pick out a word from the collector and brainstorm several sentences. This is a wonderful way to spotlight vocabulary again. Let the class decide which sentence to use for handwriting practice. As we begin to write each word, we discuss any phonics rules that may apply. Next, we review each letter formation before we write it. Vocabulary, phonics and handwriting practice in one!
The Sisters have shared with us a form you can use to provide individual Word Collectors for students. I love this idea but discovered that most young children write so big, they fill each box with one word! So I took the one page grid and expanded it to two pages. Then I stapled grid one to the left inside of a file folder and grid two to the right side. Now students can practice writing their own sentences on handwriting paper, using words from their grid, during word work. This will also be a place that students can collect interesting words they find as they read.        
Ultimately, I want the children to begin using words from the word collectors in their writing. Just yesterday, Andrew wrote in his journal, "A dragon is a 'monstrous' animal."  The class gave him a "round of applause" for his efforts. In addition, I want children to use words from the collectors in their speaking too. Ben's mom told me recently that he had asked her if she was "forlorn." She was surprised when he explained to her that "forlorn" meant sad.  Don't you love it when you see and hear examples of students' learning!
Creating sentences and writing them is quickly becoming part of "what we do" after lunch. The children must be sharing this with their parents too because Lucy brought in a note from home the other day. All it said was, "For the Word Collector, "investigate." Wow, even parents are participating!
So rethink your Word Collector, is it a working tool or just a place to drop a word? Maybe with just a few tweaks you can find other ways to add a spark to vocabulary work.  You will relish watching your students turn into wizardly wordies!
Download Word Collector Document 1