When Another Adult is in the Classroom
---
Join Our Community
Access this resource now. Get up to three resources every month for free.
Choose from thousands of articles, lessons, guides, videos, and printables.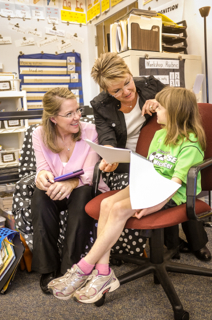 Some classrooms have more than one teacher supporting students in the class. This can be a tremendous benefit to teacher and students alike. If this is you, here is our preferred way of making use of additional classroom support:
Share pages from our paper conferring notebook or share the students via The CCPensieve. The support person meets with identified students one-on-one. 
Both adults meet during the week with each assigned student.
Once a week, during one Daily 5 rotation, the support adult and classroom teacher meet to review the progress the children are making and decide on next steps and the teaching required to move students forward.
If this one-on-one work is new to the adult, sharing our conferring notebook (paper or online) provides valuable information. The support adult can see in real time the kinds of notes the classroom teacher is making and the instruction that is happening.
As the supporting adult watches and learns from the classroom teacher, skills are enhanced. This has become a wonderful professional development opportunity for the adults we are working with and also for us as we have upped our level of teaching as we share it with others.