A Visual Cue to Support Barometer Students
---
Join Our Community
Access this resource now. Get up to three resources every month for free.
Choose from thousands of articles, lessons, guides, videos, and printables.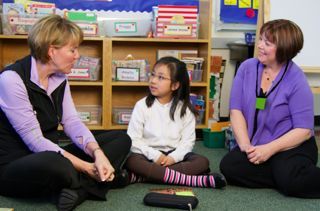 Providing barometer children with support is easier and more efficient if we are up and moving around the room or working with them one on one. However, we know that is not always possible.  So what can we do if we are conferring with a student or teaching a small group and a barometer child needs support to maintain independence? We say go visual with a cue! 
As you can see in the picture, Gail and Sue are conferring with a student in Sue's class. Sue is wearing a lanyard with a green card hanging from it.  This is the visual cue Sue uses with her barometer students. We know the power of positive reinforcement, in particular with students who crave attention and may even misbehave to get attention. With an acknowledging smile, Sue flashes the green card to her barometer children when they are working independently, and then continues to work with the child or children in front of her. The simple act of flashing the green card is often enough to buoy the student up and keep him or her going a bit longer. This little trick is like being in two places at once. 
Other color cards can also be used.  When a child is having a more difficult time, flashing a yellow card can be a prearranged signal that means "Hold on, take a breath, I know you can get back to the job at hand."  The year I used this strategy, I put a large smiley face on the green card. Each time I showed it to my barometer student, he put a tally mark on a sheet stapled to the front of his folder. He kept track of them as he worked toward earning lunch with a friend and our principal.
This simple, positive,  visual cue is easy to prepare as well as simple to manage, making it an ideal strategy to have in your toolbox of ideas for supporting your barometer students.