Three Steps to Take When Behaviors Are Far from Perfect
---
Join Our Community
Access this resource now. Get up to three resources every month for free.
Choose from thousands of articles, lessons, guides, videos, and printables.
Whether we teach the youngest students in the school or the oldest, there may be times of the year or certain groups of students who struggle with the behaviors and stamina building of Daily 5. We work with, speak about, and write extensively about children in class who have barometer behaviors. Those are the behaviors that can dictate the weather in the classroom. We have developed varied strategies to support students as they build stamina and alter behavior in ways to meet their individual needs, while allowing the rest of the class to continue without disruption.
What happens when least desirable behaviors are not limited to merely a few students, but the majority of the class is struggling with building stamina or participating successfully in Daily 5? At the beginning of the year, when the newness of school has worn off, we often hear that Daily 5 isn't working well with a class. Some report a decline in behaviors around holidays or when weather keeps students cooped up inside. Rather than let frustration lead to throwing in the towel, here are three steps to get things back on track.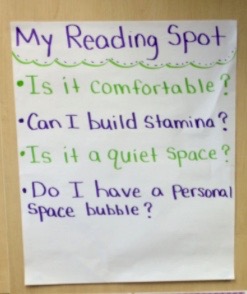 Observe: From the time you release students from the gathering place as they go out into Daily 5, until stamina breaks, watch and observe what is happening. 
Analyze: During the observation time, pay careful attention to students' specific behaviors, along with when and where least desirable behaviors are happening in the room. 
Adjust: Most often when overall behaviors of the class are bumpy, it is because students didn't really become independent during the launch, or they may have simply forgotten the expectations. 
For example, Heidi Smith sent her first and second graders off for their first round of Daily 5 last week. She noticed very few students chose a good spot for themselves. Stepping back to observe the class allowed her to analyze the behaviors and notice the challenge students were experiencing. Heidi understood the majority of her students had not fully learned how to choose a spot where they could be successful and build stamina, nor could the people around them be successful and build stamina as well.
Instead of continuing, which would have resulted in practicing incorrectly, Heidi went back to step 6 of the 10 Steps to Independence, and placed her students around the room. The result was a much more successful round of Daily 5 for the entire class and students learning and practicing the expected behaviors. Through the process of observing and analyzing, Heidi realized that her students had not experienced enough successful seating options and locations and needed more support. She adjusted by backing up and once again placed students, teaching them the various available seating options. In doing so, she avoided being frustrated with her students' behavior, understanding that they merely needed more instruction and practice. 
Heidi used reteaching and practice as her adjustment in the process. Other types of adjustments may be taking a different approach to the instruction of behaviors, reviewing the I-chart, having students model or practice again, slowing down the instruction, revisiting the 10 Steps to Independence, or even making a new anchor chart like the one pictured, which was created by Alyssa Christopher, a teacher at Plaza Vista School in Irvine, California. 
As your students build stamina this fall, or if you find throughout the year that appropriate behaviors are waning, try this three-step process to help support your students so they become successfully independent.