Allison Behne
February 12, 2016
Issue #395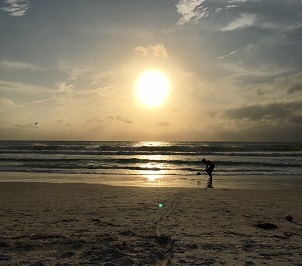 Last month my family took a five-day vacation to Florida. With the rush of the holidays coming to an end, and the temperature slowly declining, it was the perfect time to break away. As I sat on the beach, watching the waves and enjoying the laughter of my children as they played in the sand, I couldn't help but think of how much we needed this break. It provided time to have fun, decompress, and hit the reset button. I returned home rejuvenated and ready to take on whatever came my way.
Fast-forward and I am now finding myself in need of another break. The only problem is, my bank account can't afford a trip to Florida every month. I need to find a way to recharge that's quick, easy, and free.
Reflecting on what contributed to that sense of rejuvenation, I realize that a good book, peaceful rest, and being in the moment are not limited to a sunny beach in Florida. I can have those even in the below-zero temperatures of Iowa.
No matter where we live, we can do small things that will yield big results. The job we do is demanding. It is imperative that we take time to refresh and rejuvenate, even in small ways, so we have the energy to be our best selves, as teacher, parent, spouse, and friend. 
Are you in need of rejuvenation? Take a few minutes to think about what restores your energy and make some time for yourself today. 
News from The Daily CAFE
---

Try Today . . .
February is Love Your Library Month*
Here are some great ways to show your classroom library some love.

Assessment Matters . . .
Make Conferring a Habit
Conquer these two behaviors, and you'll be on a path to conferring regularly.

Purposeful Practice . . .
Principal and Teacher—Partnering for Student Success*
Creating a plan for principals and teachers to partner together sends a strong and powerful message. Here's a look at how it can be done.
Focus on Health . . .
Finding Balance
Those who are happiest, calmest, and most positive have found that sitting somewhere in the middle helps keep them balanced.
Professional Development Opportunities
---
2016 Live Workshops

Select a location to see what's new in our live workshops next year and sign up today.                                                                                 

| | |
| --- | --- |
| Location | Dates |
| Chicago, IL | Apr. 9–10 |
| Atlanta, GA | May 14–15 |
| Denver, CO | June. 11–12 |
| Dallas, TX | June 23–24 |
| Minneapolis, MN | July14–15 |
| New Brunswick, NJ | July 30–31 |
| Tacoma, WA | Aug. 6–7 |
| Chicago, IL | Aug. 20–21 |
| Anaheim, CA | Sept. 17–18 |
| Orlando, FL | Oct. 8–9 |





Workshops in Canada
Red Deer, AB, Canada: Jan. 25–26

Edmonton, AB, Canada: Jan. 28–29

Online Seminars

Prefer short bursts of information combined with independent learning? Each session offers separate seminars on Daily 5, CAFE, and Math Daily 3.

Jan. 31–Feb. 27 (FULL)

Feb. 28–Mar. 26

Mar. 27–Apr. 23

May 1

–May 28



Graduate Course (3 credits)
Registration for the next term of graduate courses begins soon! Choose between two courses.

EDU 555: Launching Daily 5 and CAFE

EDU 533: Launching Math Daily 3

 

Courses are filled on a first come, first served basis. 
Professional Development
Opportunities to learn more abound! Whether you want to collaborate with us in-person or prefer pd in your pjs, we have the instruction for you.

Online Workshops Online Seminars Graduate Courses