Prompts or No Prompts for Writers?
---
Join Our Community
Access this resource now. Get up to three resources every month for free.
Choose from thousands of articles, lessons, guides, videos, and printables.
At a recent IRA (International Reading Association) conference, two very respected writing teachers and authors, Katie Wood Ray and Matt Glover, spoke about learning to face down blank pages and ticking clocks. It is a struggle for many writers, whether young or old. One of the best pieces of advice I ever received about creating writers in the classroom was from Lucy Calkins. She suggested that one of the most powerful things we can do as writing teachers is write in front of our students. When we think aloud about what is going on in our heads as writers, it makes the process more transparent for children. Allowing students to see us struggle with word choice, editing, rearranging our writing to make it better, and yes, finding a topic to write about allows them to see that there is, as Kelly Gallagher says, no magic writing gene they might be missing. Writing and thinking aloud for students is one of the most effective ways I have found to support children as they face down those blank pages and ticking clocks. Each day as I stand at the door to say, "Goodbye—I'll miss you until tomorrow," I also remind the students to be thinking like a writer after school, always on the lookout for what they will write about tomorrow. I let them know that I can't wait to share with them what I find to write about and to see what they are going to write the next day.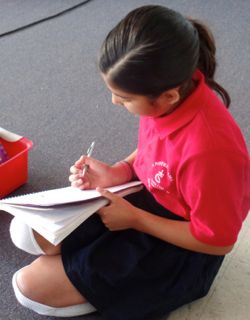 As students come to school each day, I ask them what they are going to write about. At the beginning of the year, many will just shrug and say, "I don't know." I quickly follow up with, "If you did have an idea to write about, what would it be?" At the beginning of writing workshop as well as Daily 5, I pull out my journal to show them where I keep an ongoing list of things that have happened at home, over the weekend, or other things I am thinking I could write about. When I write in front of students, I show them how I might continue working on a piece of writing from the day before or even weeks ago. If I am not adding to a piece of writing or rereading and changing to make one better, I go to my journal to get an idea.  Periodically throughout the day, I stop what I am doing to go to my journal and add to my list. Since this really is a strategy I use in my own life, it is easy to model, yet I can't say it was always that way. I had to hold myself accountable for thinking like a writer and follow through with this practice each day, just as I was asking my students to do. Through my own practice, I found it got easier and easier.  
Oftentimes, students will find writing inspiration in the form of their peers. To capitalize upon this motivation, as soon as sharing is finished at the end of writing time, students take out their journals and jot down an idea they may have heard that they could write about or an offshoot of an idea they got from listening to their peers.
Even with our best efforts to model, think aloud, and provide strategies, there still may be children who struggle from time to time with facing the blank page. We know teachers who provide a monthly calendar with some ideas of things to write about. A third-grade boy whose teacher has such a calendar available for children was asked if he uses the prompt. He quickly indicated that he used it once, but would rather write what he chooses. Providing this as an option, but not a requirement, can help with periodic writer's block.