Page Turners—Powerful Peeks into History
---
Join Our Community
Access this resource now. Get up to three resources every month for free.
Choose from thousands of articles, lessons, guides, videos, and printables.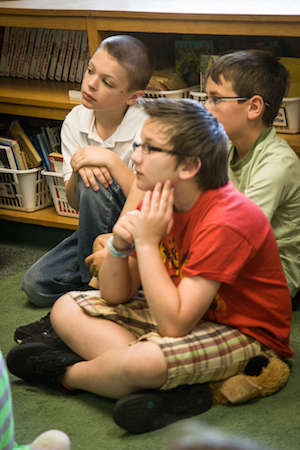 In an interview with Julia Rocchi, Jamie Ford talks about the Panama Hotel, a strong and "silent character" in his best-selling book Hotel on the Corner of Bitter and Sweet. He also talks about the power of historical fiction.
I'm about holding on to history. And I like writing historical fiction because I think it's important to hold up that mirror to look at who we were then and who we are now.
What might this mean for our students? He goes on to say this:
I definitely think it's fertile ground to explore in fiction. Academically, if it were a nonfiction book, it [might] not be so interesting or accessible to people. But I think fiction is a great way to take the reader's hand and hold their hand and walk them through some difficult times in our history.
We couldn't agree more. So here is a list of 12 amazing picture books (fiction and nonfiction) that illuminate history and will not only take the hands but capture the hearts of the readers in our classrooms.
Baseball Saved Us by Ken Mochizuki shows what life was like for a young Japanese American boy while confined to a World War II internment camp. 
Coming on Home Soon by Jacqueline Woodson portrays Ada Ruth's loneliness and longing after her mother leaves her in her grandmother's care to find work during World War II. 
Faithful Elephants: A True Story of Animals, People, and War by Yukio Tsuchiya is a heartbreaking story of three elephants who were allowed to die by starvation during World War II so they wouldn't escape during an air raid and harm citizens. 
The Harmonica by Tony Johnston is a gripping story based on the real-life experience of a Holocaust survivor. Be sure to check out this touching tribute.
Henry's Freedom Box: A True Story from the Underground Railroad by Ellen Levine takes readers on a journey with Henry, who is so desperate for freedom that he persuades an abolitionist doctor to mail him to a place where there are no slaves.
Her Right Foot by Dave Eggers provides detailed and humorous information about how the Statue of Liberty came to stand in New York and offers thoughts worth pondering about what she means to people today. 
Muddy: The Story of Blues Legend Muddy Waters by Michael Mahin is a joyful celebration of the indomitable McKinley Morganfield (Muddy Waters), whose grit, passion, and talent laid the groundwork for what would become rock and roll. 
Passage to Freedom: The Sugihara Story by Ken Mochizuki is the inspiring account of how a Japanese diplomat in Lithuania saved thousands of lives by issuing work visas to Polish Jews during the Holocaust. 
Peppe the Lamplighter by Elisa Bartone takes us to turn-of-the-century New York and the immigrant experience.
Pink and Say by Patricia Polacco is an extremely moving tale of kindness, friendship, and heartbreak during the Civil War.
Play Ball, Jackie! by Stephen Krensky shares Jackie Robinson's first game as a Dodger through the eyes of a father and son.
Up the Learning Tree by Marcia Vaughan leads us on slave child Henry Bell's desperate journey to read and write, though the punishment, should he be caught, will be severe.