One Is a Feast for Mouse: A Thanksgiving Tale by Judy Cox
---
Join Our Community
Access this resource now. Get up to three resources every month for free.
Choose from thousands of articles, lessons, guides, videos, and printables.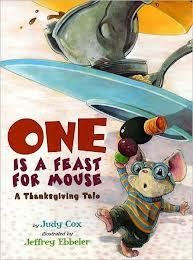 One Is A Feast For Mouse: A Thanksgiving Tale is an amusing book that reminds us to be thankful for small things. It is bursting with fantastic words, and the illustrations by Jeffrey Ebbeler are a feast for the eyes!
Possible Strategy Instruction:
Comprehension
Make and adjust predictions; use text to confirm.
Accuracy
Cross checking . . . Do the pictures and/or words look right? Do they sound right? Do they make sense?
Fluency
Read text as the author would say it, conveying the meaning or feeling.
Expand Vocabulary
Tune in to interesting words and use new vocabulary in speaking and writing—crept, snoozed, dozed, scampered, tidbits, bobbed, bobbled, creeping, skidded, pirouetted, catter-whumpus, luscious.