The Most Magnificent Thing by Ashley Spires
---
Join Our Community
Access this resource now. Get up to three resources every month for free.
Choose from thousands of articles, lessons, guides, videos, and printables.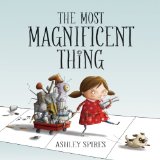 In The Most Magnificent Thing, a young girl has an idea to make something magnificent. Anyone who has tried to turn a great idea into reality will understand that it doesn't usually work out the first time. Readers will enjoy the many attempts and appreciate the determination and stamina she displays, as well as the humor that is woven throughout. 
Possible Strategy Instruction
Comprehension
Use prior knowledge to connect with text.
Infer and support with evidence. 
Make a picture or mental image. 
Check for understanding. 
Ask questions throughout the reading process.
Determine and analyze author's purpose and support with text.
Recognize literary elements (genre, plot, character, setting, problem/resolution, theme).
Accuracy
Flip the sound. 
Cross Checking . . . Do the pictures and/or words look right, sound right, and make sense?
Use the pictures . . . Do the words and pictures match?
Fluency
Adjust and apply different reading rates to match text. 
Use punctuation to enhance phrasing and prosody. 
Read text as the author would say it, conveying the meaning or feeling. 
Expand Vocabulary
Tune in to interesting words and use new vocabulary in speaking and writing. 
Use prior knowledge and context to predict and confirm meaning.