Join Our Community
Access this resource now. Get up to three resources every month for free.
Choose from thousands of articles, lessons, guides, videos, and printables.
Student choice enhances motivation and performance outcomes, and is necessary in a Daily 5 classroom. Your students will make many decisions during Daily 5, including how to choose a book to read, how to find a place to work, and how to choose a partner for reading. These choices are successful when they are based on the concept of good fit—students reading good-fit books, in good-fit places, with good-fit partners.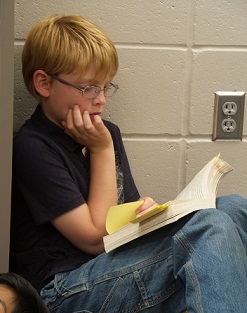 Choosing a Good-Fit Book
During those first few days of school, you teach children how to pick a good-fit book using the I-PICK method (Boushey & Moser, 2014). You show them how to look at a book's insides and outsides. You demonstrate how to determine if a book meets their purposes for reading and their individual interests. You support them as they check to see if they comprehend what they read and know the words. With your students, you celebrate good-fit book choices.
The idea of "good fit" does not end there. Throughout the school year, you will revisit this important concept of "good fit." On a regular basis, you will check book boxes and confer with students to ensure that they are reading good-fit books. 
Choosing a Good-Fit Spot
As you implement Daily 5, train students how to pick a good-fit spot to read. At first, place them around the room so that they can get a feel for the different options they have. Invite your students to consider how and where they will read best. For example, you can ask them these questions:
Are you more comfortable when you read sitting on a chair or on the floor?
Is a hard surface or a soft surface better for you when you read?
When you read, do you like to sit cross-legged or lie on your stomach?
Do you prefer a wide open space or a cozy nook in our classroom?
Do you like a well-lit place or one with softer lighting for your eyes?
Do you like to be near other students when you read or farther away?
You can share how you, or different members of your family, read at home or at school. Reinforce that no one spot is better or worse than another. Readers must pick the ones that are most suitable for them personally.
As students try out different reading spots, invite them to journal about how they feel about the available spots for reading. For younger students, or those who need more support, take pictures of seating areas in the classroom to provide ideas as your students find places and spaces that are good for them. Of course, as students are reading and building stamina, you will be making observations about what you see, and can confer with any students who may need help learning to make a good seating choice. 
Choosing a Good-Fit Partner
Since you and your students work hard to build a strong classroom community, they know that every classmate is a worthy partner. You have probably shared that being able to work with different partners and groups will serve them well not only in school, but in their future, too. To familiarize students with each other as reading partners, you can ask them to be sure that they have a chance to work with each classmate. That way, they will understand how it is to work with each boy and girl in the class.
When students select their own partners, encourage them to choose wisely. Remind them that every partner is good, but some are better than others in terms of helping each other do exactly what they should be doing—reading! You want to reinforce that all readers need partners who will help them do their finest work. Your students may realize that they work better with some classmates than others. If they gravitate toward a friend who likes to talk more than read, you can have them reflect on whether that partner is a wise choice for them.
To illustrate this point, you can share a story from your childhood or your current life about the kinds of reading or working partners who work well for you. Since your students are probably very interested in your exciting life both inside and outside the classroom, you might even want to share an example like this one:
 One of my closest friends is a teacher. Even though she does not work at our school, sometimes we go to the same teacher meetings. We used to join the same small group or try to be partners. But then we realized that we liked to talk too much. Even worse, we talked about things that we were not supposed to be talking about—like novels, sports, and our families. We decided that we would find different teachers to work with during the meetings. Then we would talk about fun things after the meeting!
Sharing your story will help children see that making a good choice is an important responsibility.
To open up the discussion about how to choose a good-fit partner and work well with that classmate, teach them to ask themselves questions like these:
What is most important about choosing a partner for Read to Someone?
What can my partner and I do to make sure we work well together?
What can I do to be a valuable Read to Self partner to a classmate?
How can I challenge myself and my partner to grow as readers?
What can I do if my Read to Someone partnership needs to improve?
Once your students consider those questions and formulate ideas about how to work together, you are sure to see some very strong and productive reading partnerships. A good-fit book, a good-fit spot, and a good-fit partner for Read to Someone will support your readers so that they can achieve their best!
Reference:
Boushey, G., & Moser, J. (2014). The daily 5 (2nd ed.). Portland, ME: Stenhouse.