Launching Secrets—Staying Out of the Way
---
Join Our Community
Access this resource now. Get up to three resources every month for free.
Choose from thousands of articles, lessons, guides, videos, and printables.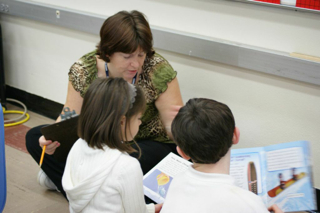 Teachers often ask us how long they have to stay out of the way when students are building independence. This is a great question and we love that they are taking Step 8 of the 10 Steps to Teaching and Learning Independence so seriously.  
In the early part of a launch, we stay out of the way, feigning interest in our conferring notebook, lesson plans, or a professional book, all while being keenly tuned in to the stamina in the room. As soon as the stamina breaks, we end the round with a quiet signal and discuss what went well and what our goals will be in the next round to strengthen stamina and independence. This important step to building independence allows our students to build stamina independently of us, relying on their own intrinsic motivation rather than our extrinsic nudging and support.
If needed, we add another layer of support to step 8. When we are launching Read to Self, we stay out of the way for the first two or three practices, making note of students who may benefit from some immediate behavior support. Then in the next practice session, during step 8, we quietly move to those students and, using our CCPensieve or conferring notebook, help them identify the area of behavior they are struggling with and the goal that will help them be more successful. Although we still believe in the vital importance of staying out of the way so on-task behaviors are not anchored to us, we know we can successfully stay out of the way while conducting one-on-one conferences to assign a behavior goal to students who need extra support and scaffolding to be successful.
By weaving this support into step 8, we are able to intervene early, respectfully supporting students before more intense interventions, like those in 5 Levels of Support for Barometer Children, become necessary. It also helps teachers get into the important practice of moving out into the room to hold one-on-one conferences, which are the heart and soul of differentiating and accelerating achievement.
When student stamina has built to 6–8 minutes, we begin our one-on-one assessments. To avoid disrupting the growing independence, we use very private voices. By beginning to work with individuals this way, students become accustomed to what it is like when we are doing our side of the I-chart, working with students. They also get conditioned to ignore the potential distraction of our soft conferring voices while they work.