Launching Daily 5 in Kindergarten, Part 9
---
Join Our Community
Access this resource now. Get up to three resources every month for free.
Choose from thousands of articles, lessons, guides, videos, and printables.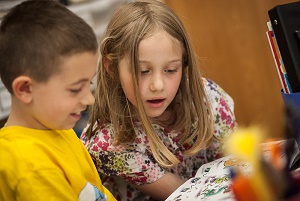 Research shows that reading with someone and taking turns increases reading involvement, attention, and collaboration (Boushey & Moser, 2014). Children absolutely love Read to Someone. Reading with someone helps readers, especially developing readers, increase their comprehension, accuracy, fluency, and expressiveness. This is as true for our beginning readers as it is for our more advanced readers. 
Other articles in this series have presented ideas for adjusting the introduction of Daily 5 to meet the needs of our kindergarten students. Although these modifications are minor, they provide just enough support to help our youngest readers be successful.  When preparing to introduce Read to Someone in kindergarten, however, there really are no adjustments to be made. We introduce it just like we do in other grades.
As you get ready to introduce Read to Someone in kindergarten, we recommend you use the launching brief as a guide. Take your time, keep focus lessons brief, and start with the foundation lessons:
EEKK/Voice level
Check for Understanding
How Partners Read
How to Get Started
Coaching or Time  
How to Choose a Partner
Then, when you feel your students are ready, launch Read to Someone using an I-chart and following the 10 Steps to Independence.  The result will be a classroom of readers empowered with yet another choice in their learning.