Launching Daily 5 in Kindergarten, Part 1
---
Join Our Community
Access this resource now. Get up to three resources every month for free.
Choose from thousands of articles, lessons, guides, videos, and printables.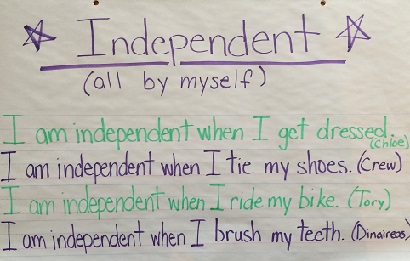 Personal relationships are vital to a healthy brain, especially in young children. Brain research shows that emotions play a critical role in learning, and therefore one of the most important things a teacher can do, especially with primary students, is take time to bond with them. Students need to feel accepted, safe, and included if learning is going to take place (Wesson, 2006). 
Knowing what we know about the brain and learning, we want to make sure we meet our students where they are.  Often in kindergarten, this means taking time in the first few weeks to build relationships before introducing Daily 5.  Below you will see how I take time to build relationships and prepare my kindergartners for the launch of Read to Self, which typically takes place the third week of school.
Week 1 in Kindergarten—Many of our early brief focus lessons focus on the meaning of the word independent.  I do this by finding a book or two in which the main character learns to do something new.  My students love Franklin Rides a Bike. After reading this text (or any similar text), we talk about how Franklin beccomes independent when he learns to ride his bike all by himself.
Then, we use chart paper and every student creates a sentence using the following sentence frame: "I am independent when I ____________________."  (Keep in mind, this is done in a series of focus lessons, not all in one sitting.)  Once everyone has a sentence, we read through our chart.  I cut the sentences apart and give each child his/her sentence.  The children then cut the words apart, manipulate the sentence back together, and glue it to the bottom of an 18-by-11-inch sheet of paper, drawing a picture to go with it. We put these pages together to create a class book titled Independence.
In addition to working on the meaning of the word independence, I use I-charts and the 10 Steps to Independence to teach basic school behaviors. We create an I-chart for lining up, coming into the room in the morning, walking in the halls, and transitions. This has helped tremendously when it comes time to launch Read to Self, because the children are familiar with the process and language involved in creating an I-chart.