Join Our Community
Access this resource now. Get up to three resources every month for free.
Choose from thousands of articles, lessons, guides, videos, and printables.
By Holly Valentine
Two years ago, I began an iPad classroom on a one-to-one basis with my students. The day I presented the iPads to my students, I felt much like Oprah: "You get an iPad . . . You get an iPad!" Looking back on it, I realize I got very swept up in the bells and whistles, much like the kids. I have since had to backtrack to keep them in check, use them as tools and not toys, and not let the iPads be the focus of the classroom. I wish I had known then what I know now. If you have a one-to-one iPad classroom, or even if you have a few iPads in your classroom, I hope you are able to take away a few tips from my experience of the last two years.
I realize now that it is important to look at the use of iPads like I do my actual classroom at the start of every year. Figuring out a practical management system is not easy. I learned by trial and error and although I encourage you to dive in, there are a few questions I advise you to think about first.
Where will you store the iPads?
What are your expectations for how students will get them and return them?
When will they use them?
What happens to the iPads when they aren't being used?
To some extent, these answers change on a class-by-class or even student-by-student basis. One helpful tip I discovered was the beauty of making sure each home screen had a large number picture or book character on it. Each number or character belonged to a student, so when the iPads were in various places around the room, it was easy to find out who they belonged to.
Whatever you do, remember that the technology you use can never replace the thinking, the reading, and the writing that takes place in your classroom. It enhances those things and takes the learning to new levels, but it can never be the sole means by which you teach. The bells and whistles of technology are not the product. The product remains the learning.
I actually now use the CAFE Menu to think through my use of the devices. Do my students comprehend what the iPads are being used for and why? Are they using the devices and the apps accurately? What do they need to be fluent and independent in what I am asking them to do? If I think through all those things, then ultimately, they will also be expanding vocabulary digitally.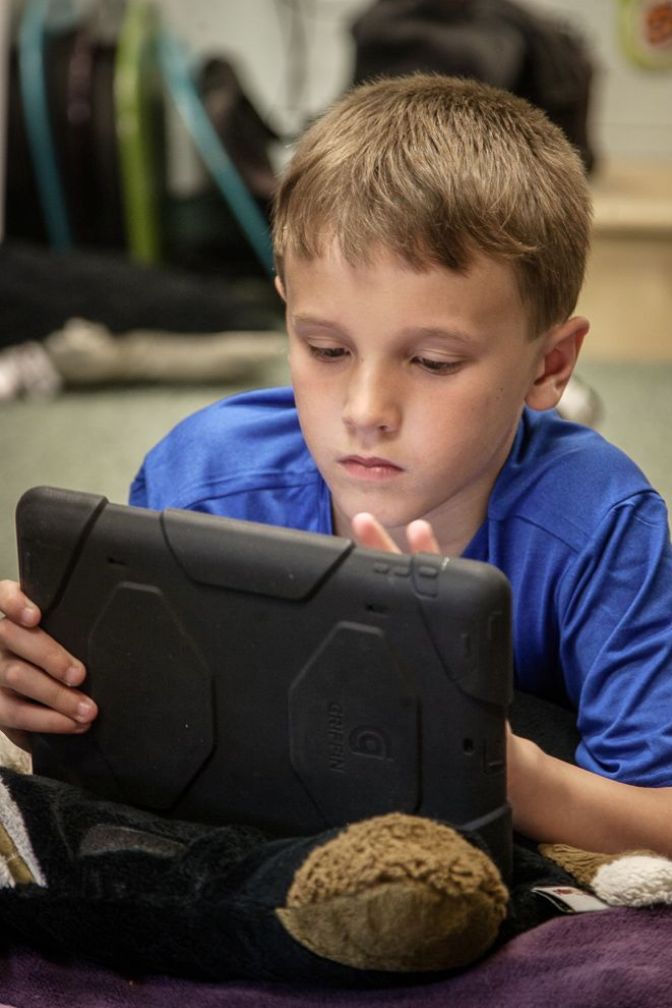 Once I had the management piece down, I was faced with the thousands of free apps to choose from. In the beginning, I thought the more the better, but boy was I wrong. Too many choices led to confusion, overload, and too much hopping instead of using them for their purpose—to build skills and independence. If I had started with just a few apps and really focused on one subject area at a time, it would have gone much better.
Take time to really investigate and explore apps before you give them to students. In the beginning, I would browse the App Store, find some free ones, play with them for about two minutes, and then download them onto the student computers. Although the apps were initially appealing, students soon discovered problems with them (like they were free for only one level and then there was a charge). Sometimes I ask students to be reviewers. I put the app on just one or two iPads, ask them to use it, and then have them share their thinking.
These are a few that have worked well for us. If the app world is overwhelming to you and you are wondering where to begin, these might be a good place to start. See if they will meet the specific needs of your students.
Reading
Hooked on Words
Word Seek
4 Words—Guess the Word
Toontastic
Raz-Kids (The app is free but membership to Raz-Kids is not)
Math
Sushi Monster
Wee Kids Math ($1.99)
Math Bingo for Kids
Squeebles Multiplication ($.99)
Operation Math ($2.99)