The Heart and the Bottle by Oliver Jeffers
---
Join Our Community
Access this resource now. Get up to three resources every month for free.
Choose from thousands of articles, lessons, guides, videos, and printables.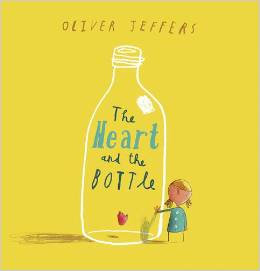 In The Heart and the Bottle, a little girl enjoys the wonders of her imagination, the world, and a very special relationship. After experiencing a profound loss, she puts her heart in a bottle to protect it, not realizing that such a drastic act will have unintended consequences. This is a great example of a simple picture book that can serve as a vehicle for a powerful, deep, and engaging lesson with older students.
Possible Strategy Instruction
Comprehension
Use prior knowledge to connect with text.
Infer and support with evidence. 
Make a picture or mental image. 
Check for understanding. 
Ask questions throughout the reading process.
Determine and analyze author's purpose and support with text.
Recognize and explain cause-and-effect relationships. 
Accuracy
Flip the sound. 
Use the pictures . . . Do the words and pictures match?
Fluency
Adjust and apply different reading rates to match text. 
Use punctuation to enhance phrasing and prosody.
Read text as the author would say it, conveying the meaning or feeling. 
Expand Vocabulary
Tune in to interesting words and use new vocabulary in speaking and writing (curiosities, unsure, notice, awkward, occurred).