Each Kindness by Jacqueline Woodson
---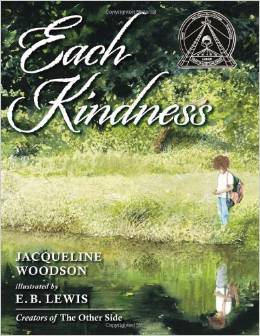 In Each Kindness, a young girl learns an important lesson about kindness and missed opportunities. The beautiful illustrations combine with the simple but moving storytelling and will haunt listeners after the last word is read.
Possible Strategy Instruction
Comprehension
Use prior knowledge to connect with text.
Infer and support with evidence. 
Make a picture or mental image. 
Check for understanding. 
Ask questions throughout the reading process. 
Use main ideas and supporting details to determine importance.
Determine and analyze author's purpose and support with text. 
Recognize literary elements (genre, plot, character, setting, problem/resolution, theme).
Recognize and explain cause-and-effect relationships. 
Accuracy
Abundant easy reading.
Use the pictures . . . Do the words and pictures match?
Fluency
Adjust and apply different reading rates to match text. 
Read text as the author would say it, conveying the meaning or feeling. 
Expand Vocabulary
Tune in to interesting words and use new vocabulary in speaking and writing. 
Use prior knowledge and context to predict and confirm meaning.