Dragon Was Terrible by Kelly DiPucchio
---
Join Our Community
Access this resource now. Get up to three resources every month for free.
Choose from thousands of articles, lessons, guides, videos, and printables.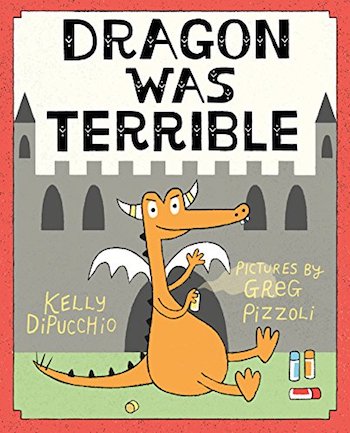 Dragon Was Terrible, and I mean really terrible. He threw sand, stomped on flowers, and spit on cupcakes (who does that?). The king, knights, and ordinary townsfolk were unsuccessful in stopping the beast. A clever boy with a compelling story ended up saving the day and taming the dragon once and for all. I can't help but think of how we sometimes win over our most difficult students with a powerfully good read-aloud.
Possible Strategy Instruction:
C: Make and adjust predictions; use text to confirm.
C: Summarize text; include sequence of main events.
C: Check for understanding.
A: Use the pictures . . . Do the words and the pictures match?
A: Cross checking . . . Do the pictures and/or words look right? Do they sound right? Do they make sense?
F: Adjust and apply different reading rates to match text. 
F: Use punctuation to enhance phrasing and prosody (end marks, commas, etc.).
E: Tune in to interesting words and use new vocabulary in speaking and writing.
E: Use prior knowledge and context to predict and confirm meaning.