Join Our Community
Access this resource now. Get up to three resources every month for free.
Choose from thousands of articles, lessons, guides, videos, and printables.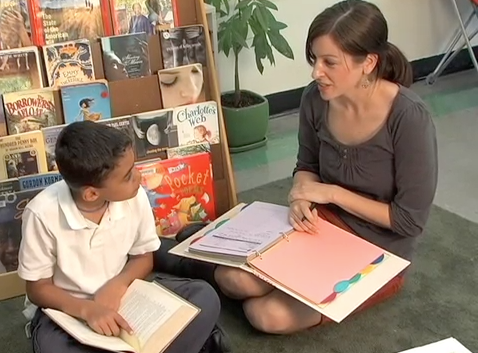 Daily 5 and CAFE form a strong partnership in the classroom. Daily 5 is a framework that gives teachers time to confer with their students and conduct small strategy-based groups while their students are engaged with meaningful literacy learning. It is a structure that does not hold content. The CAFE system of assessment provides that content. A classroom that incorporates Daily 5 and CAFE provides a routine that is productive and fun. Matching Daily 5 in both efficiency and effectiveness, CAFE maximizes time for teachers and students alike. The following time-savers are embedded in CAFE.
A CAFE Menu for Every Teacher and Every Reader
CAFE Menu: In CAFE, teachers and students focus on targeted strategies from the CAFE Menu. The CAFE Menu offers categories of strategies that readers need to apply and master, based on their goals. It lists the Comprehension, Accuracy, Fluency, and Expand Vocabulary strategies that a reader must have. The CAFE Menu for Emergent Readers meets the needs of early readers. The CAFE Menu is also available in Spanish and French. Many teachers place a menu for each reader in the student section of their conferring notebook. The menu serves as a centerpiece in CAFE, saving teachers time that they can spend with students.
Interactive CAFE Menu: Being busy is a way of life for most teachers, but the Interactive CAFE Menu can save users from doing countless hours of research. With the mere click of a mouse, educators can access teaching tips, articles, and an abundance of other resources that will help them teach a target strategy. They can delight students with "I Can Bookmarks" that can be shared for each strategy.
CCSS-Aligned CAFE Menu: For each grade level, CCSS-Aligned CAFE Menus are featured on thedailycafe. They facilitate lesson planning. Common Core Standards that do not appear on the menu can be taught through teacher-designed focus lessons. For more information, please see CAFE with Common Core.
CAFE Menu Board: An integral part of the classroom, the Literacy CAFE Menu Board is a daily reminder of the goals that students have selected. It displays the children's names (and sometimes pictures) next to the goals they have chosen. In addition, it shows the strategies that students have been taught as a whole class. This board saves everyone time because it serves as an up-to-date record of students' goals and whole-class strategy lessons. Classroom teachers can lighten their workload by using the CAFE Menu Board Headings shared on thedailycafe.
Time Keeping/Record Keeping
Calendar: The classroom calendar that displays student appointments saves the teacher valuable time in answering student questions about when that next much-anticipated conference will occur. It reduces stress for anxious students and the teacher as well. With an up-to-date calendar posted in the classroom, the teacher is spared the recurring question "When is my turn?" It helps guarantee that no child falls through the cracks.
Touch Points: During a conferring session, the teacher can use a system known as Touch Points. Since note taking has to be quick and efficient, teachers can save time by using the Touch Point system. With this notation system (that ranges from 1 to 4), the teacher can indicate how the child is progressing toward mastery of a strategy. When a student has a series of 3s and 4s recorded for a particular strategy, the teacher can determine which one to layer on next.
Individual and Group Conferring Forms: The Sisters offer forms that teachers can use to conduct time-efficient individual conferences on pages 148–149 of The CAFE Book. Some of the forms offered by The Sisters include icons that also enable the teacher to move seamlessly throughout the conference. Designed for simplifying note taking and recording Touch Points, the Reading Conferring Sheet and Strategy Groups and Instruction Form make it easier for teachers to capture significant in-the-moment observations about their readers. For teachers new to the process, the Conferring Icons Form gives additional support.
Pensieve or Conferring Notebook: Having student conferring records, strategy group forms, test data, and other pertinent information all organized in one streamlined notebook known as the Pensieve is a huge time-saver. All of the Pensieve forms can be located at A Conferring Notebook Tour and the Pensieve Paper Forms. By using this notebook, teachers will discover that they don't lose any more minutes scrounging through file cabinets or desk drawers for conferring notes or other needed forms. For teachers who prefer to use a digital version, the CCPensieve is a great option!
Keeping Track Form: A helpful visual that shows how many times the teacher has met with each reader is the Keeping Track Form; it documents which children the teacher has conferred with and minimizes the chances that any reader will be overlooked.
Student/Teacher Interactions Around CAFE
Individual Conferring: One of the many benefits of individual conferring is that teachers really get to know their readers' strengths and challenges. At the beginning of a conference, they can simply turn to a particular child's section in the conferring notebook and begin conversing where they left off. No time is wasted, and no momentum is lost.
Strategy Group Lessons: Just like the brief focus lesson, the strategy group lesson takes into account the number of minutes that students can attend. The concise nature of the strategy group lesson makes it possible for the teacher to conduct more than one group or to confer with a few students during a round. The teacher can use a piece of shared text that she has selected, or students can bring their own good-fit books to the group. On occasion, the teacher might select a book for each group member based on the reader's interest and reading ability. Time scouring through a school bookroom or library searching for a set of six or more identical guided books is saved.
Strategy Assessments: Available on The Daily CAFE website are brief, user-friendly Assessing Each Strategy ideas and rubrics for gauging students' progress on a strategy. In terms of preparation, these save teachers valuable time. They also provide helpful information about what students are expected to know and be able to do.
Teacher Supports
Strategies to Start With: Since the CAFE Menu offers many great strategies and readers have many pressing needs, teachers sometimes question where to take instruction with a particular student. Through the 6-5-4-3 Strategies to Start with Form, The Sisters offer wise advice to choose a strategy based on the reader's goal. When unsure where to start, teachers can begin with the first six listed under Comprehension, the first five appearing under Accuracy, the first four under Fluency, and the first three under Expand Vocabulary. By following this guidance, teachers can save time and address readers' needs in a practical way!
From Assessment to Conferring, Sample Needs and Strategies: Whenever teachers would like a little guidance about which strategy to teach a student, they can turn to The Sisters' From Assessment to Conferring Guide (page 153 in The CAFE Book). This useful document helps teachers zero in on the reading behaviors students exhibit and determine the best strategy to target.
Coaching Toward a Target: The Protocol for Teaching: To keep conferences quick and focused, teachers can refer to Coaching Toward a Target. This form, with its informative icons, guides teachers through the conferring process and encourages them to act as coaches for their readers.
Ready Reference Guides: Convenient Ready Reference Guides offer user-friendly ways in which teachers can present each CAFE Menu strategy to their classes. These time-savers are available in The CAFE book (pages 154–190), as well as online at The Daily CAFE.
Parent Pipelines: Teachers who want to encourage parents with selected CAFE Menu strategies can turn to Parent Pipelines. These are filled with great ideas for at-home practice. To save teachers time, Parent Pipelines are ready to be downloaded and distributed; families will surely appreciate these concrete ways to support their children at home.
Parent Introduction Letters: As teachers launch Daily 5 and CAFE, they often want to give parents background on The Sisters' structures. Many opt to use one of the sample comprehensive Parent Letters found on thedailycafe in its entirety or as a starting point.
Guest Teacher Letters and Lesson Plans: When planning for a substitute, teachers can share information about how Daily 5 and CAFE operate in their classrooms. They don't have to write a plan from scratch because they can find sample Guest Teacher Plans to use or customize from the website or in The CAFE Book (pages 166–167). Teachers who would like their substitute to confer with readers will find a time-saving form at Guest Teacher Conferring Form.
Book Looks: Offering a synopsis of an assortment of texts, the Book Looks feature is designed for teachers' ease of use. With this resource, teachers can browse through the strategies that can be taught with each book and easily find a suitable text to share with readers. They can also discover some exciting new titles in the process!
Lit Lessons: To help teachers be ready for strategy instruction, Lit Lessons offer book synopses. They provide a more detailed look at CAFE Menu strategies that the book can be used to teach.
Brief Focus Lessons: Sample Brief Focus Lessons designed to teach the CAFE Menu strategies are available to Daily CAFE users. These lessons can be taught verbatim, or teachers can customize them. Some are grade-level specific.
Implementing CAFE in the classroom optimizes the organization of small groups and conferring. As teachers can appreciate, greater organization leads to more time. The Daily 5 and CAFE resources available on thedailycafe and in their books add to teachers' repertoire of teaching tools and gives them valued time to devote to their readers.
References
Boushey, G., & Moser, J. (2009). The CAFE book. Portland, ME: Stenhouse.
Boushey, G., & Moser, J. (n.d.) The daily CAFE. Retrieved from https://www.thedailycafe.com
Boushey, G., & Moser, J. (2014). The daily 5 (2nd ed.). Portland, ME: Stenhouse.