Gail Boushey
July 10
Issue #364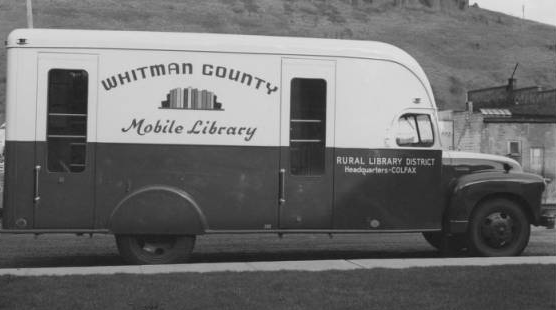 The small eastern Washington town of Colton boasted about 200 people when Joan and I were growing up in it. Everything about Colton was small: the grocery store our dad owned, the post office/soda fountain/candy store, the two-teller bank, and the four-room school. The school library was made up of old Dick and Jane readers and donated National Geographic magazines. 
One thing that was small but seemed huge was the bookmobile that came to school once every two weeks. The days when the rolling library came to school were by far the best days. It transformed our little school library and town into a world of opportunities. In the early 1950s the county recognized the need to provide services to the public schools and sent mobile libraries into our rural towns for over 40 years.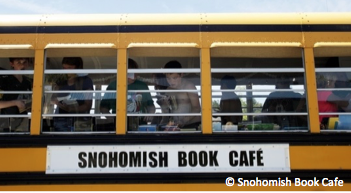 Now, 60 years later, Jenny Wall Granger from Snohomish, Washington, has found a way to provide books to students who don't have easy access in her own community. She converted a school bus into a summer bookmobile for students in her district to help stop the summer reading slump. 
Jenny shares the process she went through, resources she used, and press from the local paper and news station. 
Maybe you will take Jenny's idea and ruminate on it or come up with your own idea and take action now. Whatever you decide, there are children everywhere learning from our actions. Harold and the Purple Crayon was the first book I remember borrowing, thanks to the bookmobile.
News from The Daily CAFE
---

Questions Answered…
How do we as principals, coaches, and teammates help influence and move a staff toward the use of Daily 5 and CAFE?
There are a few ways we can be agents of change.
Purposeful Practice…
Book Looks and Lit Lessons—Ready for Instruction
Lit Lessons and Book Looks make it easier than ever to match titles with strategy instruction.

Assessment Matters…
Conferring with Our Strongest Readers*
How do we use assessments to guide our above-grade-level students? 

Try Today…
Classroom Architect
This online tool lets you arrange and rearrange your classroom without breaking a sweat.
Focus on Health…
Reflect Upon Your Present Blessings
Join an event to support a friend and be drawn into the invisible bond of a better future.
Professional Development Opportunities
---
2015 Live Workshops

We love meeting teachers at our workshops. At each location, the first day will focus on Daily 5 and Math Daily 3. Day two is a new CAFE Intensive. 

2015 Online Seminars

Prefer short bursts of information combined with independent learning? Each session offers separate seminars on Daily 5, CAFE and Math Daily 3.

Learn more about Daily 5 and CAFE workshops, online seminars, and online graduate courses.

Up & Running with the Daily 5

Our new how-to video, shot in third-grade and fifth-grade classrooms, is available through subscription for online streaming or as a DVD at Stenhouse Publishers.
Professional Development
Opportunities to learn more abound! Whether you want to collaborate with us in-person or prefer pd in your pjs, we have the instruction for you.

Live Workshops Online Seminars Graduate Courses