Join Our Community
Access this resource now. Get up to three resources every month for free.
Choose from thousands of articles, lessons, guides, videos, and printables.
Are you looking for ways to beautify your classroom but thinking you don't have much space? There's a chance you may be overlooking great opportunities to add character, light, or softness to your room. Look up! Most classrooms have a lot of dead space above cupboards and cabinets. Take a look at how I've added lamps and various decorative items above my desk and a cabinet in my classroom. Rather than piling ugly boxes or bins in these areas, I've decided to add some interest.

Because the lamps are up high, their indirect light adds a softness and glow that the room didn't have before I decorated these spaces. Adding a little greenery also helps. Fake plants—even ugly ones—work great. They're up high, so they don't need to be perfect. I repurposed some old, tired plants from home. I've also added a couple of books whose covers match the color scheme. This is another inexpensive way to decorate anywhere in your classroom.
My friend Tarah needed to house some materials in her classroom, but the space looked rather industrial and messy. Here's the "before" view: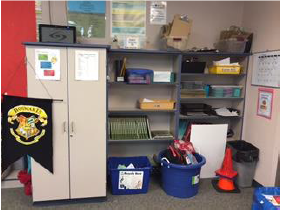 I helped Tarah spruce up her shelving, focusing on the dead space up above. Here's the much improved "after" view:

As you can see, Tarah still has spots for books, tubs, and even whiteboards. We just tidied up the space and added some elements of interest. As a new teacher, Tarah is on a tight budget, so we used what she already had. Luckily, she's a huge Harry Potter fan, so we added her Hogwarts flag and a couple of Harry Potter books. We also swapped out two plastic tubs for baskets. Tarah had gotten the lamp from her grandmother and then decided not to use it at her house, but it's perfect for this space!
It's amazing what you can do with a little creativity and found objects. Take a look around your classroom. Do you have any "dead" spaces that could use a bit of color and light?