Assessment in Perspective
---
Join Our Community
Access this resource now. Get up to three resources every month for free.
Choose from thousands of articles, lessons, guides, videos, and printables.
We truly love good assessments. We find it completely enjoyable to sit with a child, gleaning information about what they know and where they need to go next. In addition, our school districts administer a variety of assessments. Some are worthwhile and some feel less so, especially when they come at the expense of valuable instructional time.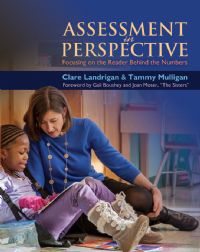 It can be tricky to figure out which assessments are of value. It can be difficult to find the assessment that matches what we want to know about a child. The good news is that a brand new book has just been published that will answer all these questions for teachers. It's titled Assessment in Perspective, Focusing on the Reader Behind the Numbers, and will help teachers make decisions about the types of assessments to use, inform them how to use the information gleaned to guide instruction, and involve students in assessments as well as keep assessments developmentally appropriate.
The third chapter on assessment literacy helped us understand the different types of available assessments, describing their purpose and best use.