Why We Add Strengths to the Conferring Form
---
Join Our Community
Access this resource now. Get up to three resources every month for free.
Choose from thousands of articles, lessons, guides, videos, and printables.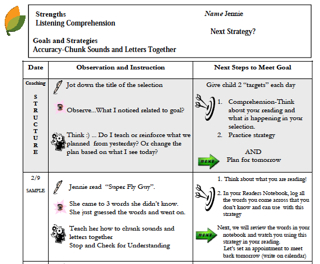 We've always wanted our conferences to be focused and purposeful, which is why we developed a simple conferring form that allows us to focus our coaching on a child's assessment-based goals and record their next steps.
One day we found ourselves standing next to Donald Graves while waiting to get into a session with Richard Allington at an International Reading Association conference in Toronto.
We were feeling a little starstruck and wanted to fill the silence yet sound intelligent, so we asked him, "Donald, what are you working on and thinking about now?" He said he was spending time with the notion that as teachers, we are in a frenzy to identify a student's deficits—so much so that we may be neglecting the rest of the child. We're failing to recognize their strengths and all the things they do know. Shouldn't their strengths be part of our conversation with a child as well?
We were recording goals and strategies, but even though we verbally shared students' strengths with them, we weren't noting those strengths or what the children had command over. Our forms were strictly deficit focused. 
We returned to Seattle and immediately changed our conferring form. The form is initially filled out during an assessment conference with a child, and now joyfully reflects their strengths as well as their goal.
If you want a scaffold for your conferences and to see how we fill out this form, check out the sample conference sheet below.