Join Our Community
Access this resource now. Get up to three resources every month for free.
Choose from thousands of articles, lessons, guides, videos, and printables.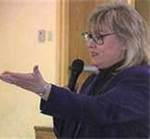 I recently had an opportunity to hear Dr. Jane Bluestein give a presentation titled "The Win-Win Classroom: Strategies for Building Responsibility, Cooperation, and Self-Management in a Compassionate School Climate."
One of her key points was the importance and value of offering students choices. Here are some of her main points:
Choices build responsibility and commitment, and communicate the teacher's respect for students' needs and preferences.
Choices are motivational tools that encourage cooperation through input and empowerment.
Choices can also help prevent disruptive behavior.
If a student is having difficulty with even a simple choice, add another limit if necessary (such as a time limit, or a choice between only two things instead of more). Be patient. Some young students and well-conditioned order-takers need time and practice to develop confidence in their ability to choose.
I couldn't help but think of how this key element of her presentation is woven into the structure of Daily 5. Students love choosing which Daily 5 they will participate in, where they will sit to maximize their stamina, whom they will work with, and more.
If you are unfamiliar with Dr. Jane Bluestein, you might like to visit her website. You'll find interesting and helpful articles on discipline and behavior, emotionally safe schools, leadership, parenting, teaching and learning, and much more.