Math: Artistic Activity for Understanding Area
---
Join Our Community
Access this resource now. Get up to three resources every month for free.
Choose from thousands of articles, lessons, guides, videos, and printables.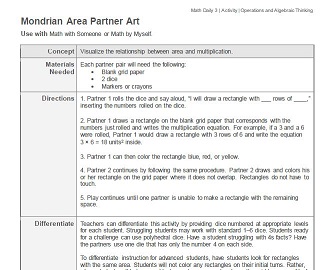 By Melissa McNally
Rationale:  Students will visualize the relationship between area and multiplication.
CCSS: 3.MD.C.7A- Find the area of a rectangle with whole-number side lengths by tiling it, and show that the area is the same as would be found by multiplying the side lengths.