Area Dice Game: Calculate Area
---
Join Our Community
Access this resource now. Get up to three resources every month for free.
Choose from thousands of articles, lessons, guides, videos, and printables.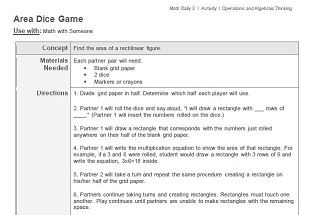 By Melissa McNally
Rationale:  Students will find the area of a rectilinear figure.
CCSS: 3.MD.C.7D Recognize area as additive. Find areas of rectilinear figures by decomposing them into non-overlapping rectangles and adding the areas of the non-overlapping parts, applying this technique to solve real world problems.