I PICK Helps Students Choose Good-Fit Books
---
Join Our Community
Access this resource now. Get up to three resources every month for free.
Choose from thousands of articles, lessons, guides, videos, and printables.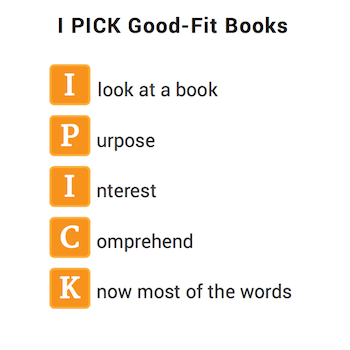 I look the book over—the cover, blurb, and a page or two on the inside.
Purpose: My purpose for reading this book is_______.
Interest: I am interested in this book.
Comprehension: I understand what I am reading.
Know the words: I know almost every word.
When a child asks for help finding a good-fit book (or it becomes apparent to us that they need help), we support them with the I-PICK process.
First, we do a little investigating to discover a purpose. They might need to do research for an assignment, or they might just need a good book to get lost in during Read to Self.
Next, we ask them about their interests. They might love mysteries, fantasy, dinosaurs, or funny books. They may be motivated to learn about dogs because they are petitioning a parent for a pet. We help them locate books that match their purpose and interest.
After that, the student reads a portion and checks for understanding to see if they comprehend and to be sure they know almost all of the words (aiming for 99 percent accuracy).
The beauty of the I-PICK method is that students can find a good-fit book whether they are in a bookstore, a public library, the school book fair, or anywhere. They are not handicapped by being shackled to colored dots or leveled numbers. The criteria are easy to remember and follow so students can find a good fit wherever they are, and parents can support the selection of good-fit books at home.