Choice Words By Peter H. Johnston
---
Join Our Community
Access this resource now. Get up to three resources every month for free.
Choose from thousands of articles, lessons, guides, videos, and printables.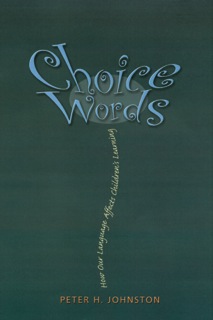 If you are looking for a professional book to add to your reading list, Choice Words: How Our Language Affects Children's Learning by Peter H. Johnston
is one we highly recommend. In it, the author focuses on things teachers say (and don't say) that effect powerful change in the lives of students, especially their literate lives.
Because of the rich and thought-provoking content, it is the kind of book that begs to be reread. Each time I read it, I adopt another phrase to add to my default repertoire that will help me foster a classroom that is emotionally healthy and a vibrant learning community.
For instance, I adopted "I like the way you figured that out." This simple sentence gives the student complete credit for the accomplishment.
I also removed "I'm so proud of you" from my vocabulary, shifting to "I bet you're proud of yourself" instead. This small change moves the child's work from being something intended to please me to something that has intrinsic value, creating a sense of agency within themselves.
Another phrase that has become part of my work with children is "Which part are you sure about and which part are you not sure about?" Whether related to spelling, decoding, solving problems in math, or anything else, this directs students to be reflective and to focus on the successful part of their efforts. This allows them to focus their problem-solving skills on the parts they are not sure about.