CCPensieve Summer Cleanup
---
Join Our Community
Access this resource now. Get up to three resources every month for free.
Choose from thousands of articles, lessons, guides, videos, and printables.
When this article was written, our online conferring notebook was called CCPensieve. We've since updated the name and website. Learn more at ConferringNotebook.com.
If you have been using the CCPensieve, you know what a wonderful tool it is for organizing and guiding instruction, providing curricular coherence, and monitoring progress.
As the school year comes to an end, here are some things to consider that will help you get a jump start on preparing your digital conferring notebook for next year.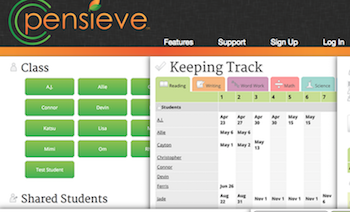 ---
Update Reading Levels
Once your end-of-the-year assessments are complete, you will want the data to reflect students' end-of-year status.  This tutorial will show you how to easily edit whole-class reading levels all at one time. 
---
Share with Parents and Guardians
Customize and print PDF reports so you can put them in with report cards to give families even greater insight into their child's goals, strategies, and progress. 
---
Unshare
If you have shared your students with another teacher or support person who will no longer be working with them, unshare them so students and support staff will be ready for a fresh start. 
---
Three Options for Removing Students from Your Class List
Transfer students to the next teacher. They will have access to the student's conferring sessions and will be able to pick up instruction right where you left off. When you transfer students to another teacher, the conferring sessions will no longer be accessible to you, but only to the new teacher. If you have students who won't be moving to a classroom in your school, you can archive those students. 
 
Archive students. Use this option when you want to refer to this year's conferring sessions but don't want to see them every time you log in. It is especially useful if you aren't sure which class children will be placed in. It keeps their file available so you can transfer the student in the fall once you know their placement. This is also an option if you are keeping students by looping up or teaching in a multiage classroom. 
 
Deleting all students from your class will eliminate their data completely. You should use this option if you are sure you will not need to refer to the students' information again.
---
Starting Up Again
After an extended break, you may need a reminder of the important features. Check out these video tutorials for quick examples of how to use the tool.