Join Our Community
Access this resource now. Get up to three resources every month for free.
Choose from thousands of articles, lessons, guides, videos, and printables.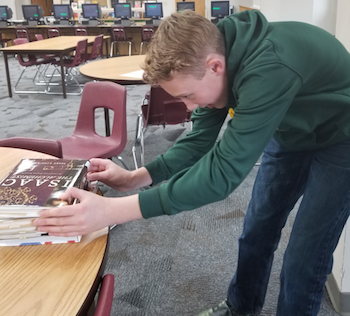 Looking for a fun activity for April's National Poetry Month? Spine Label Poetry is an unintimidating way to let students express their creativity. While they browse the library shelves, they may even discover a book to check out!
Assure your librarian that the process won't be messy. During the first week of April, I do this activity with periods one, three, five, and seven. The following week, I work with students during periods two, four, and six.
Get two pieces each of several different colors of construction paper. Keep one of each color intact and make five shelf markers out of the second sheet of each color.
 
Assign each student (or group) a color. Let them know their poem may consist of the titles of three to five books.
 
As they choose each book, they put a shelf marker (made in step 1) in its place for easy cleanup.
 
Students stack their selected books on an intact sheet of paper of the corresponding color to make a "poem.
 
Take pictures of the poems to print or share online.
 
Reshelve the books. This is quick and easy because of the color-coordinated system.