Writing Algebraic Equations
---
Join Our Community
Access this resource now. Get up to three resources every month for free.
Choose from thousands of articles, lessons, guides, videos, and printables.
This Math by Myself activity supports the forth-grade Operations and Algebraic Thinking (4.OA.1) standard.  Students who are able to interpret multiplication sentences as a comparison as well as visually represent statements, and interpret multiplication comparisons and equations, are well on their way to gaining control of this very important math concept.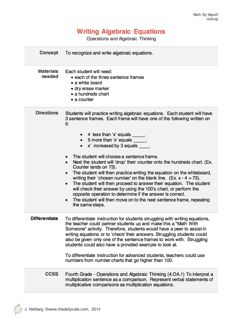 When we have students participate in activities such as this, it moves the learning to that of practice and automaticity. This activity can also be used for Math with Someone and Writing in Math. (See bottom of the lesson, below.)