Using Color to Create a Calming, Inviting Atmosphere
---
Join Our Community
Access this resource now. Get up to three resources every month for free.
Choose from thousands of articles, lessons, guides, videos, and printables.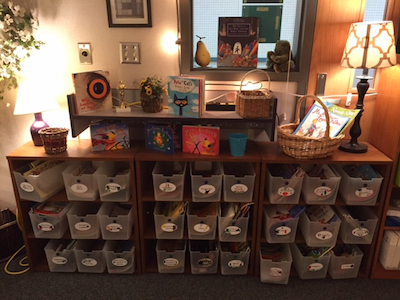 Creating a warm, calm, inviting classroom is something I've been working on for a number of years. I get a deep sense of satisfaction when someone walks by my classroom and says "Wow! I just had to come in here" or when staff members and former students pop in just because they love to be there. My current students thrive in our environment and seldom want to leave at the end of our day together.
Gail's classroom was my initial inspiration. It always projected a sense of peace and calm. I began striving for a similar feel in mine, experimenting with lighting, sound, color, furniture, and the general design. Creating functional, inviting classroom environments has become a passion. It wasn't until I began working on my masters degree that I began delving into brain research. I started to realize how environment can affect performance and behavior in the classroom. I began making very deliberate changes to the feel and appearance of my room. "Different colors produce different psychological, emotional, and physical effects. Some colors are calming and can help you relax and release your worries; some colors are stimulating. Surrounding yourself with the right colors can be an excellent stress management tool." (Dr. Edward Group DC, NP.)
In my current job as a Title 1/LAP teacher, I often work with students who feel anxious about learning or have very stressful home lives. I want them to come to school and feel safe, calm, happy, and motivated. I have used a lot of dark brown wood bookcases as a backdrop in my room to create feelings of warmth, comfort, and security. I've added pops of orange, which stimulate feelings of excitement, enthusiasm, and warmth. I've also added blue and green, colors that reduce anxiety and create a sense of tranquility and peace. As I've been writing, I've noticed that the colors in my classroom mirror the colors in my home. They speak to who I am and how I want to feel in a space. They are my signature colors.
What are your signature colors? How do you want your space to speak to your students, families, and colleagues? What can be tweaked so your home away from home, your classroom, is an inviting place to learn?